Strategic digital marketing with Mudbrick Vineyard and Restaurant
Quarter Four has started for the University of Auckland Graduate School of Management Master of Marketing students with an exciting site visit experiencing Waiheke's most spectacular scenery at the Mudbrick Vineyard and Restaurant.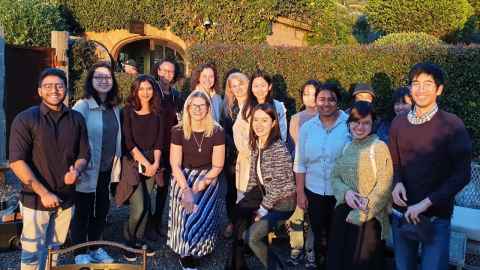 Our Marketing students will work for 10 weeks with Mudbrick, a destination venue and winery that is globally recognised for its award-winning wines, menus and stunning vistas.
I strongly believe that connecting students with experienced practitioners is essential to keeping up with the speed of change, particularly in the digital marketing environment. Collaborating with a client like Mudbrick to find solutions for real digital marketing issues is a very unique opportunity to prepare our students for their marketing careers.
This way of project-oriented working and learning resonates with the master students' expectations of the course. Anahita Joseph commented: "Working with Mudbrick is an exciting opportunity, especially because we get the chance to understand the real-life applications of the service-dominant logic in digital marketing and strategising, while working with a brand whose fundamental philosophy is to operate from a customer's point-of-view."
Mari Kuitunen added: "I enjoyed our client visit to the Mudbrick Vineyard. The presentation was very thorough, giving many useful insights for our project. I can't wait to get this project really going."
The digital marketing course is developed to address the significant shift to a new business world, where incumbent companies, entrepreneurs and society at large are facing a very different reality as a result of digital transformation.
After two years of constant refinement, the Graduate School of Management can proudly say we have developed a state-of-the-art marketing course that prepares students, not only for the challenges of their future marketing careers, but also introduces them to central players in the New Zealand digital marketing scene, including IBM, Microsoft, MBM and AKQA.
This course is part of our 18-month Master of Marketing programme for graduates seeking to gain an edge in a fast-moving digital world.