Alumni growing a network of like-minded peers
Ryuji Battad joined Engineers Without Borders while he was a student so he could make the most of his time here. Now he's the president of the Auckland Professionals chapter.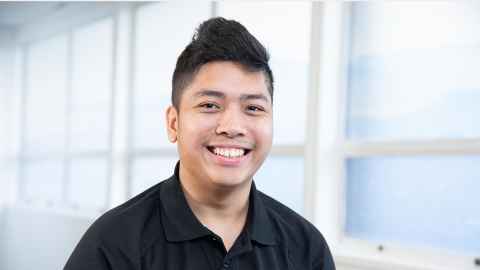 While studying towards his Bachelor of Engineering (Hons), Ryuji wanted to do more than just head to class, study and — in his words — go home and watch Netflix. The club Engineers Without Borders (EWB) met his criteria, which was to find an organisation that was community minded and would help him grow as a young engineer.
"I chose EWB because of its commitment, its dedication to sustainability, andI wanted to have a humanitarian focus like embedded into my engineering career," he says.
Ryuji worked his way to becoming President of the student chapter at the University of Auckland, which was a useful step towards his current role as president of the Auckland chapter for professionals. Despite being a young president at 23, Ryuji sees this as an opportunity to fast-track his career and learn from a group of peers who have similar goals and outlooks.
"It sometimes feels a little bit weird because I don't really have the experience, but it does give me the feeling of 'oh I can learn more from this, and I can develop faster than other people because I took up this position,'" he explains. "There's heaps of support anyway from the chapter and from the management team as well. They give us feedback, mentoring and all that we need."
For Ryuji, one of the most rewarding aspects of committing to an organisation like this is the chance to grow his network in New Zealand's engineering community. While he still keeps in touch with his former classmates, his role in EWB is a chance to continually meet new people.
"I have all these external connections that I can bounce ideas off, they're all people who are doing great things in the humanitarian sector,'' he says. EWB does lead me to meeting other people in the sustainability sector, and shows me what they're doing with their engineering careers. It's really interesting."
Ryuji's role in EWB started as a way to support his undergraduate studies, but over time it evolved into an integral part of his life as an engineer. We'll be featuring a full profile of Ryuji soon, including a discussion on how EWB is using his Part IV project to provide clean water in the Pacific.