PM previews cancer research
New Zealand Prime Minister the Right Honourable Jacinda Ardern was introduced to some of the innovative cancer research underway at the University of Auckland during a visit in October.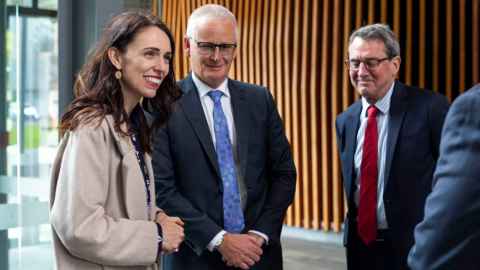 She discussed the twin frontiers in cancer research – cancer genomics/personalised medicine and cancer immunotherapy – with Director of the Auckland Cancer Society Research Centre, Distinguished Professor Bill Denny, Director-designate Associate Professor Michael Hay, the Dean of the Faculty of Medical and Health Sciences Professor John Fraser, and the Deputy Vice Chancellor-Research, Professor Jim Metson.
"Do you think there will be a third frontier?" she asked.
"Oh yes," replied Professor Fraser, adding there are currently some 1500 clinical trials underway in the United States on cancer immunotherapies alone.
The upshot for cancer drug development is ever-more finely-targeted drugs for ever-smaller groups of people, which will continue to escalate drug costs and inevitably disrupt business-and clinical trial models, the researchers agreed.
The University researchers described the strengths of the ACSRC, and the wider Integrated Cancer Centre across the University and the Auckland District Health Board (ADHB): their multidisciplinary, almost-one-stop-shop nature.
"We adopt a multi-disciplinary approach: from designing and synthesizing new agents, to testing them through the full range of cellular and tumour models, and delivering these for clinical trials – a process that takes years," said Dist. Professor Denny.
"One of our strengths is the tight integration of chemistry, tumour biology and pharmacology staff, together with close relationships with oncology clinicians, which creates truly innovative and translatable drugs," said Associate Professor Hay.
The ACSRC alone has developed 17 drugs that have entered clinical trial in humans, the final stage of drug development. Among them, a chemotherapy drug called tarloxotinib developed by Associate Professors Adam Patterson and Jeff Smaill, which has been licensed to Rain Therapeutics who are testing the compound on patients with non-small cell lung cancer. Exploiting the fact that unlike healthy tissue, solid tumour tissue lacks oxygen, tarloxotinib becomes active only in low-oxygen, or 'hypoxic', areas. Another example is dacomitinib, from a previous joint project between the ACSRC and Pfizer, which gained US Food and Drug Administration (FDA) approval last year for the treatment of lung cancer.
Traditionally, the clinical trials have taken place overseas, due to the multimillion-dollar expense and need for large number of participants. However, the 2018 opening of the new Auckland Cancer Trials Centre – a collaboration between the University and the ADHB (the Auckland Academic Health Alliance) – means that drugs and treatment regimens developed at the University can now undergo early-phase trials in Auckland, giving New Zealand patients access to trials they would have previously had to travel overseas for, and helping retain value in this country.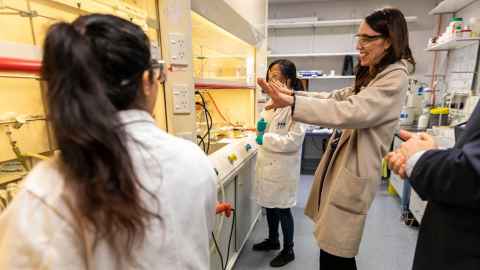 In a quick tour of the ACSRC, Prime Minister Ardern chatted to Research Fellows Dr Ben Dickson and Dr Lydia Liew about their research projects.
Dr Dickson explained he was making a series of analogues of a successful drug used for ovarian cancer. The goal is to produce new analogues with improved tumour targeting which would broaden the therapeutic use of this class, and allow it to be used in combination with chemotherapy.
Dr Liew was working on a Health Research Council-funded project to develop new agents which will sensitise solid tumours to radiotherapy. She has discovered small molecule inhibitors of a protein within the DNA damage response that sensitise head and neck cancer cells to radiotherapy, both in cells and in tumour models. She will develop these 'radiosensitisers' to identify a candidate to take forward to clinical trial.
"There is a new period of research and development in the space of cancer care," Prime Minister Ardern later told reporters, "[T]he cancer drugs are being more and more highly targeted towards specific forms of cancer. That is both an exciting phase for researchers, because it does mean more effective forms of cancer care; however for those who are developing these new drugs, it is more expensive, so this is a challenging environment."