Science medal for work in stretchable electronics and biosensors
Professor Jadranka Travas-Sejdic's internationally leading work on polymer electronics has been recognised by the New Zealand Royal Society Te Apārangi which has awarded her the 2019 Hector Medal.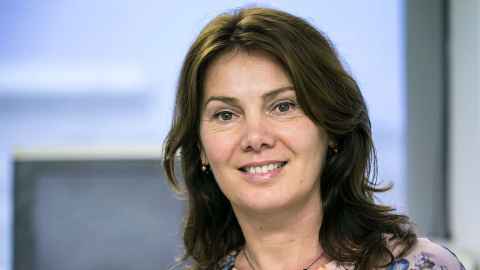 The country's top annual science prizes, the 2019 Research Honours Aotearoa, recognise scientists who have made an outstanding contribution in their field.
The Hector Medal recognises work in chemical, physical, mathematical or information sciences.

Professor Travas-Sejdic is based in the School of Chemical Sciences at the University where her research is in the field of advanced polymers and nanomaterials and how these can be developed for biomedical applications.
An acknowledged science leader in New Zealand, Professor Travas-Sejdic leads multi-disciplinary research programmes across chemistry, biology, medicine and engineering.

Her research on polymer electronics and novel nanomaterials with unique optical and electronic properties is world-leading, and is directed to development of novel biosensors and organic electronic materials that can stretch and heal without loss of electrical function.
Stretchable and healable electronics have enormous potential in a wide variety of emerging applications including skin wearable and implantable sensors and electronic devices, energy-storage, human-machine interfaces and soft robotics.
Professor Travas-Sejdic is director of the Polymer Electronics Research Centre, a principal investigator at the MacDiarmid Institute for Advanced Materials and Nanotechnology, and co-founder of SpotCheck Technologies, a spin-off company based on research to develop hand-held, cost-effective sensors for the electrical detection of DNA including detection of bacteria in water.
She has delivered numerous keynote, plenary and invited talks internationally and has been an active supporter of younger researchers, including through the University of Auckland's Women in Leadership Programme.
A Fellow of the Royal Society Te Apārangi and the New Zealand Institute of Chemistry, she has received a number of national awards and prizes including the Shorland Medal from the New Zealand Association of Scientists and the Easterfield Medal from the New Zealand Institute of Chemistry and the Royal Society of Chemistry UK.
She was delighted her work had been recognised with the Hector Medal.
"I would like to sincerely thank the Royal Society Te Apārangi for this award and to thank the talented and hard-working postgraduate students and post-doctoral fellows in my past and present research group," she said.
"I'd also like to thank my collaborators both in New Zealand and overseas and colleagues at the University and the MacDiarmid Institute who have been my mentors and friends and without whom my achievements would not be possible nor the journey so enjoyable."