$1m e-scooter bill in need of serious fix
E-scooter users are sustaining serious, costly injuries. We need rules now to protect riders and ensure companies contribute to health care costs, writes Colleen Bergin.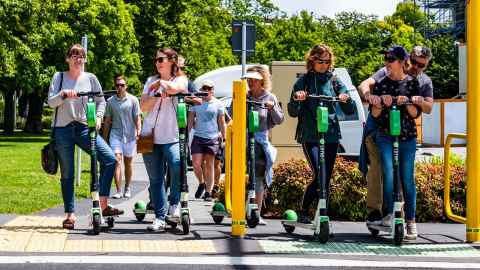 Electric scooter injuries are a huge drain on Auckland's trauma services and worse, our young people seem to have no idea of the risks they are taking every time they step onto an e-scooter with no helmet.
Research from the University of Auckland's Faculty of Medical Health Sciences shows around a third of e-scooter injuries that present to hospital involve injury to head and shoulders with one in 20 involving serious brain injury. Given the vast majority of these riders are aged 18 to 33, this has significant long-term effects, which we haven't begun to quantify yet.
It is time now for the Government and councils to get real about making laws and enforcing safety regulations – we need rules not recommendations – and while we can't eradicate injuries, we can minimise them. They would do well to look at Queensland, which this year introduced a series of regulations that include: compulsory helmet-wearing, age restrictions (no riders under 12, and under 16s to be supervised), rules about riding safely around pedestrians and no drinking and riding or using cell phones. A full list of these rules, which include instant fines for non-compliance, can be found here.
It is also time for e-scooter companies to shoulder their share of health costs from scooter injuries. Our research shows e-scooter accidents in the Auckland region cost our already overburdened health system upwards of $1 million in six months. And if we put an e-scooter perspective on that healthcare cost – the average injury cost per scooter is $1300; the licence fee paid by the e-scooter companies is $35 per scooter.
So why should we be paying for this extra demand on our healthcare system? Why should the New Zealand taxpayer be picking up the cost? E-scooter companies must be held responsible and contribute to health costs. In fact, it seems remarkable that this isn't the case. This must change before any licences are renewed to offset the costly impact electric scooters have had on our health services.
These are the facts revealed in our study, which used data from the Auckland District Health Board and ACC: There were 770 reported injuries between October last year and April this year, including GP visits and hospital attendances. Of the 770 people injured, 246 (31.9 percent) presented to Auckland City Hospital's Emergency Department and 75 (30.5 percent) of those requiring admission and inpatient care. Forty-nine (19.9 percent) people required at least one operation and 105 (42.7 percent) specialist follow-up care.
Why should the New Zealand taxpayer be picking up the cost? E-scooter companies must be held responsible and contribute to health costs. In fact, it seems remarkable that this isn't the case. 
Injured riders ranged in age from seven years old to 78 years old and more than half were male. The most common injuries were lacerations, strains, sprains and bruises but almost 5 percent (12 people) had concussion or brain injury.
These injuries used up a total of 5569 bed-hours in Auckland, and cost Auckland City Hospital alone $608,843. That last figure is for six months only because data for April wasn't available. Including admission, follow-up care and radiological imaging, these figures show the extent that Auckland City Hospital is bearing the brunt of increased costs due to e-scooter injuries.
Alcohol was thought to be a factor in 59 out of 220 cases presenting at the emergency department of Auckland City Hospital, a rate of 26.8 percent. As emergency medicine specialist Dr James Le Fevre says: "a motorised narrow platform on wheels, no helmet, and alcohol is a dangerous combination."
Hospital data shows 90 percent of injuries were due to loss of balance, which included riding at excessive speed. Vehicle collisions accounted for just 1.6 percent of injuries requiring hospital treatment and two out of the 246 presenting to hospital were injuries to pedestrians from e-scooter collisions.
Combined costs for the whole Auckland region from either GP visits, hospital bed hours or ACC claims from e-scooters was $1,303,155 over the seven months.
An earlier study by another team at faculty revealed that surgeons are operating on more e-scooter users than on motorcycle riders and injuries are high-energy, blunt trauma that might not be expected from an e-scooter but explained by speed.
The council has attempted to rule on speed by enforcing automatic slow-speed zones in certain areas around the city and we have seen recommendations about helmet use and rider age – but they are totally ineffective.
We need enforceable rules and regulations because, in this unregulated free-for-all, every e-scooter in our towns and cities is a disaster waiting to happen.
Dr Colleen Bergin is an Associate Professor in the Faculty of Medical and Health Sciences.
This article reflects the opinion of the author and not necessarily the views of the University of Auckland.
Used with permission from Newsroom $1m e-scooter bill in need of serious fix 28 October 2019.
Media queries
Alison Sims | Research Communications Editor
DDI 09 923 4953
Mob 021 249 0089
Email alison.sims@auckland.ac.nz