Renowned environmentalist brings a challenging and inspiring message to the Business School
A visit to the Business School from a famed British environmentalist calls for a note of optimism in the face of climate concerns.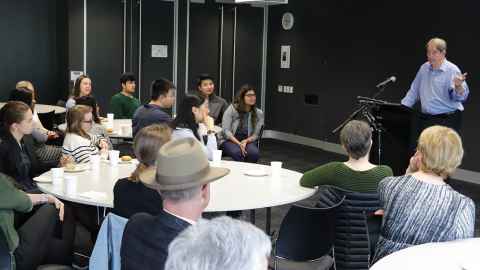 As part of the Dean's Distinguished Speaker Series in October, the Business School was pleased to host Sir Jonathon Porritt, British environmentalist, Green Party advocate and Chancellor of Keele University. Along with a wealth of knowledge and experience fighting for environmental causes across the globe, Sir Jonathon brought with him a stern message of how tertiary educators and students can lead by example when it comes to protecting our planet.
With the changing climate obviously a key concern for the future, Sir Jonathon's wide-ranging address touched on the importance of respecting the evidence and not underselling the validity of sustainability research, even in the face of a vocal minority of opposition. While he made great pains to stress that the existential risk presented to us will unquestionably disrupt our lives, the situation also offers us tremendous opportunities to continue research and development of new methodologies and technology to lead us into a greener, more sustainable future.
"The disruption is completely inevitable, but if we do what we need to do then that could be really exciting," Sir Jonathon told the audience.
"If politicians somehow conjure up the necessary level of political will, if capital markets begin to get behind this, if citizens suddenly see what irreversible climate change actually looks like, then the disruption will be amazing."
The disruption [from climate change] is completely inevitable, but if we do what we need to do then that could be really exciting.
The problem, as Sir Jonathon sees it, is that this window of opportunity is rapidly closing.
"People who get very gloomy about climate change need to give themselves a break and embrace the astonishing power of what we could be doing right now. The University of Auckland, as number one in the Times Higher Education Global Impact rankings, is the best-placed university anywhere in the world to be handling these challenges."
In addition to his Dean's Leadership Series address, Sir Jonathon took the time to visit with the 2019 Kupe Leadership Scholars at a lively breakfast event. After speaking to the cohort about his background and life as an environmentalist, Sir Jonathon fielded questions from the students on topics including New Zealand's clean, green image with the context of our troubling agricultural record. While still an occasionally confronting conversation, the provocative insights offered to the Kupe Scholars are invaluable.
The need to transform the operations of tertiary education institutions so they're better fit for purpose in a tumultuous future is the key message Sir Jonathon wishes to convey, and it's a lesson some of our brightest young minds will carry with them as they face these challenges.
Hear Sir Jonathon Porritt speaking to RNZ about universities and climate change.