A voyage of discovery as BLAKE NIWA ambassador
Marine science student Melanie Hayden will spend 28 days in the Southern Ocean aboard a science research vessel after being awarded a BLAKE NIWA Ambassadorship.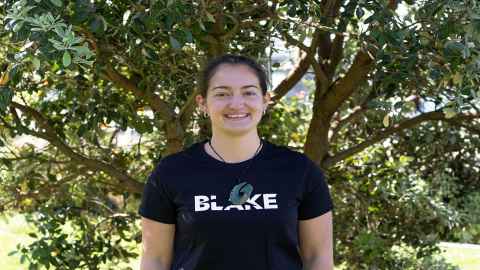 Melanie was selected from 100 applicants to travel on the RV Tangaroa with marine scientists and crew to the sub-Antarctic region, assisting with at-sea data collection including biological information on trawl catch, collecting fisheries acoustic data and measurement of water properties.
The overall aim of the voyage is to improve understanding of the effects of climate variability on ecosystem function in the sub-Antarctic region, an important habitat for some of New Zealand's most iconic species including the Antipodean albatross, New Zealand sea lion and New Zealand fur seal.
The BLAKE Ambassador programme allows young New Zealanders aged 18 to 25 years to work alongside leading scientists, conservators and rangers to experience the practical elements of their field of study.
Melanie said she couldn't wait for the voyage to get underway. The trip is particularly relevant to the masters work she begins next year because the sub-Antarctic Auckland and Campbell islands are home to Bird of the Year winner, the Yellow-eyed penguin.
"This is such an exciting opportunity, with links to my proposed masters research on Yellow-eyed penguin conservation physiology so I'm really looking forward to it, it will be a unique experience."
Much of the research carried out during the trip will focus on mid-food chain population surveys; the fish at these levels in the food chain such as hoki are important commercial species but are also an important food source for New Zealand sea lion and the albatross.
Melanie said her passion for the marine environment grew out of the many summers she spent volunteering as a surf lifeguard and paddling waka ama. She also enjoys scuba diving, water polo and sailing.
The sub-Antarctic region is one of the remotest marine environments in the world but there is some evidence there have been major shifts in its climate since the 1970s.
Melanie hopes to communicate the indirect impacts of climate change on marine ecosystems and to inspire young Maori to engage in the environmental sciences.