Douglas Nutrition reaches milestone with the Newmarket Innovation Precinct
Douglas Nutrition was the first organisation to co-locate with NIP at our Newmarket Campus. Earlier this year the company achieved a significant milestone, releasing its Puria Vitamin D drops to market with Pharmac approval.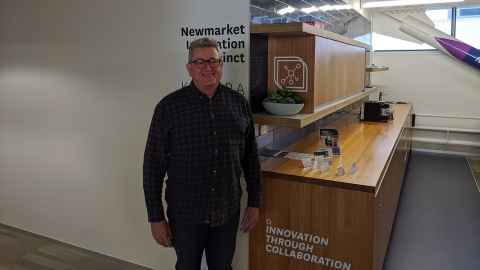 Roger Gower describes Douglas Nutrition as being run like a startup. The team of two, himself and Sarita, focus on collaboration with a range of other entities and they outsource their manufacturing requirements, so an arrangement like co-locating with the Newmarket Innovation Precinct (NIP) at the Faculty of Engineering perfectly supports these goals.
"NIP provided an office situation for a small growth oriented business like Douglas Nutrition with close access to potential research partners and facilities," Roger says.
"I think there's a bit of a halo-effect in being associated with the University of Auckland, and with the research and engineering part of the University in particular. If you have an address that's a University or NIP address, then people understand that you're in that Research & Development space, rather than fast-moving consumer goods, in terms of that spectrum."
The aim of Douglas Nutrition is to develop and sell foods for well being. Launched earlier this year, the company's most recent achievement is the Puria Vitamin D drops project. It's Pharmac approved for treating Vitamin D deficiency in infants and children, and from December 2019 it will be the only government-funded Vitamin D supplement available on prescription.
"Vitamin D is important for the development of bones and teeth and for general well-being," Roger explains. "With the wide use of sunscreens and hats many people do not get the exposure they need to the sun to produce Vitamin D naturally through their skin."
Getting the product to market meant completing approval processes through Medsafe and Pharmac, which Roger said required an extensive dossier of material, the last 20 per cent of which was compiled and worked on while they were based at NIP.
NIP's community has grown to include a diverse set of organisations. It continues to connect university staff, students and researchers with people from companies that range from growing startups to multinationals.