Engineering Project Management graduate wins Research Achievement of the Year award
Patricia Schaeffer de Melo and her family moved from Brazil so she could study here. This year, her research project was recognised by the Project Management Institute of New Zealand.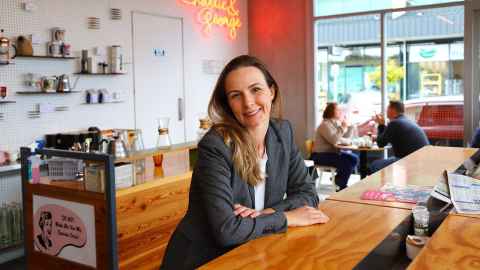 In Brazil, Patricia Schaeffer de Melo had graduated with a degree in Mechatronics Engineering and worked as a Product Development Coordinator in Sao Paulo, so she had clear goals for what she wanted to achieve when she signed up for our Master of Engineering Project Management.
"The way I worked within the company, every product development was considered a project, no matter the size," Patricia explained. "I had the opportunity to work with small, medium and large projects, so I always had the practical knowledge of product management".
"I believed having a formal education in project management would not only refresh these concepts and update my knowledge, it would also be very important to network with the community and the professionals involved within it."
Patricia found these opportunities in our Graduate School of Engineering, and was able to align her real-world experiences with the information provided in her courses. Importantly, she felt the teaching staff shared these experiences too.
"The courses are all prepared for real professionals. The lecturers we had came from real-world fields - they have experience working in project management jobs," Patricia says. That was really nice because we could share a lot of information. I could learn and share my experiences, which was really good because I could see that we were dealing with real situations with real tools, not only just theoretical situations."
The research project Patricia completed during her Masters was recognised by the Project Management Institute of New Zealand. She was awarded Research Achievement of the Year, and says the recognition from an organisation like that makes her feel very proud. For her research project, Patricia worked within the University Strategic Programme Office Portfolio, the University of Auckland's project management office. She performed a few case studies while embedded in the team, and her aim was to raise knowledge and provide structural recommendations to proactively influence the organisation's future projects.
"The way I proposed to approach these real-life problems was very practical and simple," Patricia explains. "I could connect theoretical knowledge in professional applications. That's the value of the research."
Along with the personal satisfaction she feels, it's also an opportunity to build a network and focus on future career opportunities.
"Getting the award opened a lot of doors for me, Patricia says. "I'm looking for a position where I can connect my old experience and my new conceptual knowledge that I got from my recent qualification. I think it opened many doors because I'm also looking to work with PMI, I'll be co-operating with them when I can. I think being part of that community is really good in terms of learning more and sharing my experience with other professionals."
The Graduate School of Engineering is home to the Faculty of Engineering's Taught Masters programmes. Find out how you can follow in Patricia's footsteps and take the next step in your career.