A Prime Minister's Scholarship to Asia has opened the eyes of University of Auckland graduate Lucy Redwood.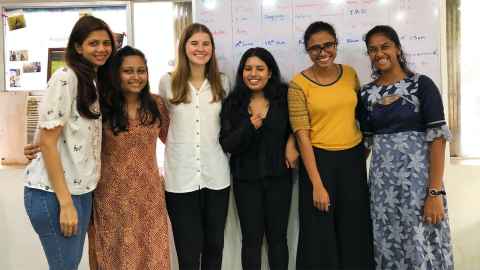 I've just returned from a six-week internship funded by the Prime Minister's Scholarship for Asia. I was based in Mumbai, India.

The aim was to make connections and to experience a working environment within another culture, and to further relationships between New Zealand and Asia. The scholarship was available to any student who had graduated within the past year with an undergraduate degree, with the aim of setting up the three recipients with an internship relating to an area of their own interest.

At the time I applied, I was finishing a conjoint Arts and Commerce degree, and eager to broaden my experience. Five weeks after I found out I had the scholarship, I jetted off with two other awardees to Mumbai. I was about to spend five weeks volunteering for an NGO called Atma, which is a consultancy-style set-up helping small, grassroots NGOs achieve scale. Atma specialises in helping NGOs that work in education, so I worked with their accelerator programme assisting two clients with marketing, fundraising and promotion. We lived in a YWCA in the city centre, and I took the local trains to work every day – an experience in itself!

As I anticipated, living in Mumbai wasn't without its challenges. I knew India was a country completely outside the realm of anything I'd experienced before while travelling. But this was also what I was most looking forward to and what I prepared myself for. Culturally, India is very different to New Zealand. It was important to me to respect India's traditions and culture. The four-day orientation we had in Mumbai really helped with our integration, giving me confidence in moving about the city and helped me to do so safely.

Like most visitors to India, I did inevitably get sick, which probably was the most challenging thing about my entire experience.

I don't know if I'll ever be exposed to the type of work I was doing in Mumbai again. I was working for NGOs in their first few years of operation, all looking to make a difference in their fields whether it be disability assistance or mentorship. Everyone involved acted with such good intentions and were all so eager to alleviate conditions faced by underprivileged children in Mumbai. It was eye-opening and gratifying to be able to be involved.

Now I'm home I can see how the experience I had is going to shape my life. I left India after eight weeks with a strengthened sense of resilience, independence and confidence in my abilities. However more than anything, my time at Atma has instilled in me an increased gratitude for the opportunities for education we have in New Zealand.

I'm looking forward to applying everything I've learned towards my future study and an eventual career in international relations and will be forever grateful for the opportunity I received thanks to Education New Zealand and the University.
Lucy Redwood