Ngaire Kerse honoured for work with seniors and their health
In the New Year Honours, Professor Ngaire Kerse was made a Member of the New Zealand Order of Merit for services to seniors and health. In May 2019 she talked to UniNews and that story is republished here.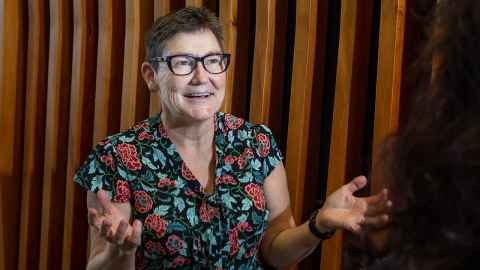 If someone gets the 'flu or has a fall or ends up with pneumonia, they can still recover and regain their function. So don't send them to a nursing home too quickly.
When Professor Ngaire Kerse, head of the School of Population Health, was doing her PhD on health promotion for older people, she undertook a focus group with doctors.

"About a quarter said 'na you don't want to do anything for older people ... just leave them alone. They're old. They want to do nothing'."

But she says doctors are simply a product of society.

"We have an ageist society – still – and that ageist society affects older people a lot. If you grow up and you think older people are worthless and a nuisance, clogging up the hospitals, then when you get old and look in the mirror and you see yourself as old, how does that make you feel about yourself?"

Ngaire is an international expert in maximising health for older people.

"I've come from general practice. I've always been interested in ageing and passionate about older people. My grandmother got to be 94. She was an amazing person, living in Motueka with a huge garden. We had lots of Christmas holidays with her."

These days the goalposts have moved on the definition of 'elderly'. "For legal reasons 65 used to be considered aged because it's when you got the pension and you were supposed to retire," says Ngaire, who is the Joyce Cook Chair in Ageing Well, created after Metlifecare founder Cliff Cook donated $5 million to set up the role.

"I think 75 is a much more reasonable number for being older now. But we're not really old until we're 80 or 85."

In New Zealand there are about 85,000 people aged over 85. "But by about 2060 we're going to have 385,000," says Ngaire.

She has been involved in the LiLACS NZ study – Life and Living in Advanced Age, a Cohort Study in New Zealand – which has debunked a number of myths about those aged 80 plus.

"The study showed most people of that age are able to manage themselves and to contribute to society. They don't see themselves as a burden or want to be a burden."

She says we should enable people in their 70s and 80s to keeping doing the things they can do.

"So the idea is to take an enabling approach rather than a catastrophic approach to ageing so they can continue to be independent." Technology will play a part. "Driverless cars are a great way to get around safely to visit families or to social occasions."

Respect is also important.

"We need to expect elderly people to be a positive influence. They've got lots to contribute and they do it already."

That's come through clearly in the LiLACS.

"We studied 85-year-old non-Māori (500 people) and 80 to 90-year-old Māori (400). We interviewed them and then followed them for five years, interviewing them every year.

"We found 25 percent are actively working and/or volunteering. More Māori were actively involved in their societies with tikanga roles on the marae and child-minding in their communities – up to 30 percent do that regularly."

Such activities require some physical fitness and that's one of Ngaire's key focuses.

"We have a trial that gives people exercise in nursing homes – to stimulate balance and increase lower leg strength to try to help them stay upright.

"If you go into a nursing home, everybody does everything for you! But if you were in a little unit or something you'd have to get up to the bathroom, get your mail, get your breakfast. When you just sit, you lose condition quickly."

She says there's also a misconception that over 85s automatically go downhill if they get sick.

"We measure their functional level every year and have found that people are like a see-saw. If they are at a lower level, it is quite possible that the following year they would be on a higher level of function – they do recover. More than half stay the same or improve.

"If someone gets the 'flu or has a fall or ends up with pneumonia, they can still recover and regain their function. So don't send them to a nursing home too quickly!"
The treatment for hip breaks, for example, now reflects that.

"Having a hip fracture is one of the worst things that can happen. You have an operation and because you're in bed losing muscle, you can get pneumonia. Now they're very careful to get people out of bed as soon as possible, get the hip fixed fast – less than 24 hours is the best – and get them up again for rehabilitation. Older people can be rehabilitated like younger people – it just takes a bit longer."

As for dementia, the news isn't all bad.

"We think the rate of dementia is decreasing. There's a UK study of the over 65s called CFAS (Cognitive Function and Ageing Studies). In the 1980s they found 8.5 percent of people over 65 had dementia. They did the exact same study 20 years later and it was 6.8 percent."

The problem, however, is the rise in the absolute number as the population ages.

"If in 2060 we have 385,000 over 85, you're going to have a hell of a lot more people with dementia."

Generally speaking, she says there are ways to reduce the chances of dementia.

"The best thing to do is extend your brainpower during your life. If you have a high-functioning job, managing a whole lot of people, you're less likely to get dementia because you've had that constant stimulation of having to think about managing several things at once."

Ngaire says housing is going to become a real challenge in the next 50 years. One solution is for older people to go flatting together, which also helps prevent loneliness.

"In this group of 85 year olds, about 78 percent own their own home. But only about 60 percent of current 50 year olds do. For renters, poverty in old age is a problem.

"I think we should turn all the old motels into this kind of living. You could have a pool and a barbecue. Imagine having a motel and all your friends live in the different units!"
■ Denise Montgomery