CBR celebrates 10 years of amazing achievements
Turning 10 is a milestone for anyone. It's double digits and a firm step into the world as a pre-teen ready to make their mark. But we've already done that.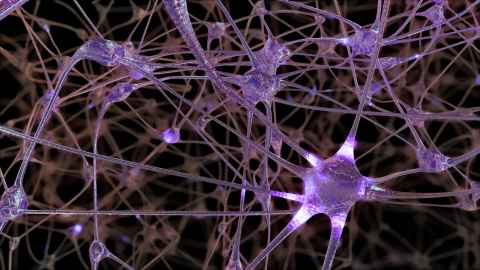 The Centre for Brain Research was officially established 10 years ago and in that time, we've gone from strength to strength, pushing boundaries and the limitations of brain science to become a world-renowned research facility, and we're just getting started!
The Centre for Brain Research (CBR for short) was the brainchild (pun intended) of distinguished professor Sir Richard Faull. After many years studying in the United States, he came back to pursue brain research here in Auckland. He worked directly with families who were impacted by neurological disorders and diseases with a clear vision to give hope to people and families touched by brain disease and a dream to develop new treatments and optimistically to find cures.
This dream sparked the birth of a multidisciplinary brain research centre that aims to unlock the secrets of the brain, provide novel insights, and translate research from the lab to the clinics. Ultimately, research allows us to better understand how the brain functions, to support people to improve and maintain brain health and find new treatments for brain diseases.
A fundamental strength of CBR is that it is a true collaboration. With links across the University of Auckland and the Auckland Hospitals, it involves scientists, doctors and students working collaboratively at every level with donors, whānau, and members of the community.
Over the past 10 years, the Centre of Brain Research has many achievements through the development of research platforms to promote collaborative research including:
created New Zealand's only Human Brain Bank (the Neurological Foundation of New Zealand Human Brain Bank)
established a Stroke Research Clinic that led to the creation of a now widely used clot retrieval surgery, which dramatically improves the outcome for patients
developed a Spinal Cord Injury Research unit to pursue new treatments for spinal injuries 
set up a Neurosurgical Research Unit that has been instrumental in helping us to discover that human brain cells can be grown in the lab and used for testing potential drug therapies
created a Dementia Prevention Clinic to work directly with patients in collaboration with Brain Research New Zealand
supported numerous masters/honours and PhD students through to the completion of their studies
established a Motor Neurone Disease Research platform and created the first New Zealand Motor Neurone Disease register to connect researchers and patients 
established the Neurogenetics Clinic that is just getting started but will give patients who suffer rare genetic diseases an opportunity to share and learn more about their unique neurological condition and to develop new genetic therapies
launched the New Zealand Sports Brain Bank, an extension of the Neurological Foundation Human Brain Bank, that will focus on how concussion and sports-related head trauma impact the brain
These accomplishments are just the tip of the iceberg. The team is constantly working on ground-breaking research that will change lives, while showing that people with neurological disorders can still live functional and fulfilling lives. To celebrate the 10th anniversary of the CBR, a symposium was held to share highlights from more than 50 areas of research currently being conducted across the CBR. The anniversary celebrations culminated in a celebration dinner where awards were presented by CBR Patron, Her Excellency Dame Patsy Reddy, Governor General, to up-and-coming researchers and those that embody the essential CBR vision of collaboration: working together to improve lives.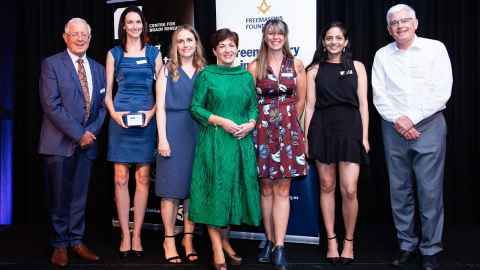 The 10th Anniversary Awards and Winners…
CBR Collaborative Science Prize
This award recognises a team of researchers, in any area of brain research, for excellence in developing cutting-edge collaborative research.
Winners: The CBR Neurogenetics Research Clinic and Motor Neuron Disease Research Lab (A/Prof Richard Roxburgh, Kerry Walker, Miriam Rodrigues, Dr Christina Buchanan and Dr Emma Scotter, Chitra Vinnakota, Prof Mike Dragunow)
CBR Senior Researcher Collaborator Prize
This award recognises a senior CBR scientist for developing outstanding collaborative research that will have a seminal influence on the advancement of brain research.
Winner: Associate Professor Lynette Tippett, Director of the Dementia Prevention Research Clinics (DPRC) in the CBR and our CoRE Brain Research New Zealand
CBR Emerging Researcher Collaborator Prize
This award recognises a scientist at an early stage of their research career who has achieved scientific excellence.
Winner: Dr Brigid Ryan
CBR Technical Researcher Collaborator Prize
This award recognises technical excellence by professional staff whose contribution has been central to the achievement of scientific excellence in collaborative brain research.
Winner: Dr Jordi Boix-i-Coll, Manager of the NeuroBehavioural Unit (NBU) within the CBR NeuroDiscovery Platform
Congratulations to all of our winners; we look forward to exciting future developments.
Newstalk ZB interviewed members of the CBR team in a special series – links below.