Shedding an eerie light on what lies beneath our own backyards
Chirag Jindal, Auckland artist and graduate of the University's School of Architecture and Planning, has been recognised with another award for his startling images that reveal the hidden lava caves beneath Auckland.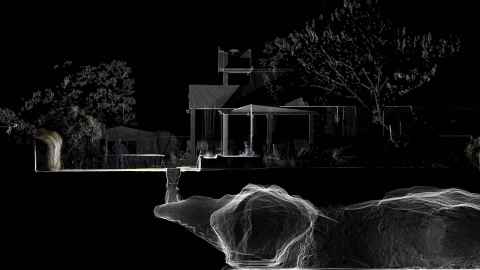 Chirag's work can be described as part-documentary journalism and part-cartography and for which, in January, he was awarded one of two prestigious awards in the 162nd edition of the Royal Photographic Society's International Photography Exhibition - the Under 30s award.
This was for his debut series of works, titled Into the Underworld / Ngā Mahi Rarowhenua.
The images capture the unseen world, the caves beneath our feet — sometimes beneath schools, our petrol stations, many backyards. The existence of these caves is not commonly known, and often only discovered when someone wants to build over them, and might then fill them with construction rubble or concrete. "Often, the growing infrastructure of the city has been prioritised over the caves," says Chirag.
If there is a surreal quality to the photographs, the world they capture is very real.
"They are not manipulated or doctored. It's a real landscape, one which was sometimes used as a burial site or hideaways by Māori, as mushroom farms by Pākehā or even as war shelters. There's a layered history to this landscape which has been left out of the narrative, because we couldn't see it, but a history we need to take care of."
Into the Underworld initially emerged out of Chirag's masters of architecture thesis, in which he explored the role of LiDAR to survey an ancient lava cave under Three Kings.
"The thesis gave me an opportunity to understand the technology and landscape, and this project that followed was about bringing it into the public forum," he says.  
There's a layered history to this landscape which has been left out of the narrative, because we couldn't see it, but a history we need to take care of.
The series is comprised of 3D scans made using an emerging form of laser imaging known as LiDAR (light detection and ranging). LiDAR is a surveying method used in archaeological research and criminal forensics, which uses light to collect millions of precisely measured points and translate the physical world into a digital facsimile.
The technology has become central to Chirag's art and research practice, and he's currently working on a number of new projects in New Zealand and Poland, where he was also awarded the 2019 Bialystok Interphoto Grand Prix.
Selected from more than 1,370 entries from 62 countries, the exhibition at the Royal Photographic Society features the work of 43 international photographers. Spirituality, identity, inclusion and the environment are some of the powerful narratives explored this year. It opens in Bristol on 15 February 2020, before touring across the UK.
He said of his award: "As any other debut project, the work follows many long periods of experimenting, indecision and risk. It's a privilege for it to be given this level of recognition and platform for outreach and exposure - especially amongst the high standard of photography in this year's RPS exhibition."
Chirag will be publishing a book about his project in late 2020/21, and will be exhibiting the project at Berlin Art Week in September. The work will also exhibit at the Arsenale of Venice in March as part of the 2020 Arte Laguna Exhibition.
Find out more about Chirag's work and his award on the Royal Photographic Society website.