After cancer: new life, new path for social work student
Alex Hunt had his future all planned out, until a cancer diagnosis flipped his life upside down. But the good news is that it's led him to a career helping others: social work.
Alex Hunt was beginning his final year of high school, captaining his water polo team and planning to study engineering, when a migraine landed him in hospital. Four days later, a CT scan revealed a golf ball-sized tumour in his brain, giving him a 10 percent chance of survival.

After being told he was "a ticking time bomb" Alex went straight into emergency surgery, followed by a month of radiotherapy and four months of chemotherapy.
"It was the biggest challenge of my life, and my strength and confidence just plummeted," he says. "For a long time, I just thought 'why me?' and it took me a really long time to change that mindset."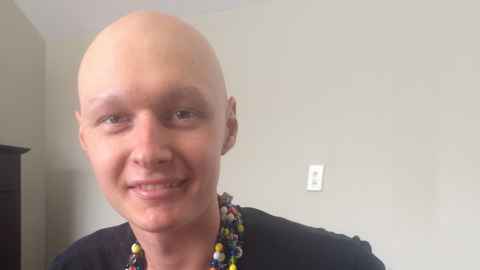 The support of family, friends and organisations got Alex through the tough times. He had a Make A Wish experience, became a leader for CanTeen, started working with other young people who had cancer diagnoses and volunteered at the YMCA. Against all odds, Alex went into remission after a year of treatment.
"I wouldn't have been able to maintain a positive mindset without the people and organisations around me," Alex says. "The social workers at CanTeen really helped me through by normalising the treatment process at a time when you might otherwise feel isolated. That's what led me to study the Bachelor of Social Work. I knew I needed to work in a people-oriented field, to help others in the same way that people helped me."
Alex says his degree is helping him turn his experiences with cancer into a way of helping other people.

It's the best feeling in the world when you know you've changed a life or helped someone through a hard time – that's why I know I've chosen the right career.
"It's been great to study the theory behind what I experienced – in class, when we learnt about things like strength-based perspectives I could really relate to it because I had experienced it with cancer. No matter what went wrong, I always had to keep a positive mindset because I knew I wasn't going down without a fight."
As he begins his third year of study, Alex is looking forward to going on a three-month placement as part of his degree.
"I've developed so many skills that help me to meaningfully engage with people, through things like collaboration, interviewing and consultation. I can't wait to go on practicum this year and put the theory and my skills into practice."
Alex will graduate next year and plans to continue his legacy of helping other people get through tough times.
"It's the best feeling in the world when you know you've changed a life or helped someone through a hard time – that's why I know I've chosen the right career."
Alongside his study, CanTeen leadership and countless volunteer roles, Alex is also a student mentor, class representative and university ambassador.
Tuesday 4 February is World Cancer Day 2020, an important global initiative to raise awareness and take action against cancer.