The light installation that lets you play a part
A team from the Augmented Human Lab at the Auckland Bioengineering Institute (ABI) and the Faculty of Creative Arts and Industries (CAI) have created an interactive light installation that will light up the Ellen Melville Centre in Freyberg Place for the month of February.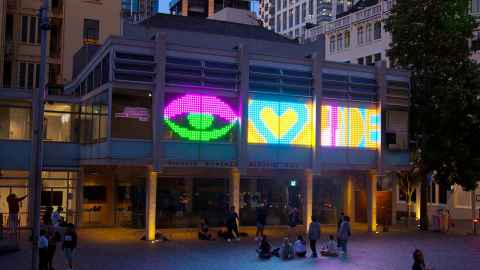 The large-scale interactive light installation consists of 2,100 LED lights that are individually controlled. Visitors to Freyberg Place can interact with the work by downloading a web app, which allows them to choose a graphic, colour it in, then send it to the centre's giant windows where it will be animated in lights, for everyone in Freyberg Place to see.
The installation was created by ABI and CAI in collaboration with Auckland Council and advertising and design agency, Run, to celebrate Auckland Pride Festival 2020 and draw attention to the Council's Proud Centres. 
Creating such an installation is a departure from the team's usual research focus says Professor Suranga Nanayakkara, founder and head of the Augmented Human Lab, but there are commonalities. He and his team have developed numerous technologies to enhance human experience, including the Finger Reader (which allows the vision-impaired to 'hear' text) and Muss-Bits (which allows the hearing-impaired to 'feel' music).
The team has also just been awarded almost $150,000 in the MBIE Curious Minds grant, to develop a "lab in a pocket", an interactive technology aimed at getting children interested in science, by enabling them to investigate the world around them and collaborate with students throughout the country on their findings.
This is about what we call 'humming technology'. Interactive public art installations are a great way to bring technology closer to people.
"For us, this is all about what we call 'humming technology'", says Professor Nanayakkara. "Interactive public art installations are a great way to bring technology closer to people," he says.
"This particular piece is expected to foster a holistic understanding of the ways in which technology is changing our thinking about design and how its creative use can reflect a sense of belongingness."
This is the fifth large-scale installation the team has done, with three in Singapore (one of which included 1,800 floating LED lights in the Singapore River) and one that illuminated Wellington's waterfront lagoon.
The fabrication of the installation was done by CAI's Elam Workshops technical team, led by Peter Cleveland and Robyn Walton.