Coronavirus fake news echoes century-old polio fears
Opinion: Confusion, xenophobia and claims made in fake news stories about coronavirus have parallels with another epidemic disease a century ago: polio, writes Heather Battles.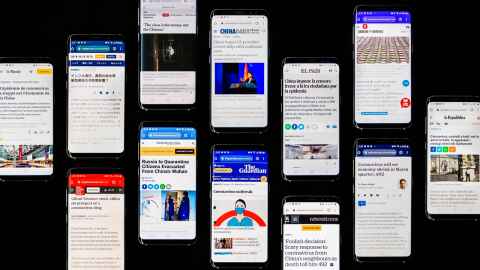 During the past month, in the confusion and uncertainty over the precise origin of the 2019 novel coronavirus outbreak, many alternate ideas or 'conspiracy theories' have sprung up and spread widely via social media including Twitter and Facebook.
I have had a sense of déjà vu as many of these claims have parallels in how people responded to another 'emerging' epidemic disease a century ago: polio.
The first example that struck me is the idea (spread by US fake news website Infowars and others) that the roll-out of 5G technology is to blame, with claims that the virus is some kind of 'smokescreen' for illness caused by exposure to 5G, or that exposure to 5G 'radiation' weakens the immune system, thus creating susceptibility to viruses. Concerns about exposure to wi-fi and cell towers date back to the beginning of these technologies, so this is nothing new – except that here, a specific epidemic disease has been targeted as the object of concern.
We can find a parallel a century ago, in the 1910 polio epidemic in Ontario, Canada. Arguably the first significant polio outbreak in that country, it occurred at a time when viruses were not well-understood. Dr Charles Sheard, Toronto's Medical Officer of Health and Chairman of the Provincial Board of Health, suggested that electrical power lines could be predisposing people to 'nerve ailments' and causing the cases of 'infantile paralysis' (as polio was then known). This was reported in the Toronto Daily Star, August 18, 1910.
This idea had particular resonance and significance to Ontarians, and especially the people of Hamilton, aka 'The Electric City', where the polio epidemic was centred. It spoke to people's anxieties about potential unknown consequences of industrialisation and urbanisation, including new technologies, such as electricity, which were becoming ever more ubiquitous. These same anxieties, though in some ways particular to the Edwardian era, are also very much active today.
A second idea that stood out to me this past week is the suggestion that the novel coronavirus is related to bioterrorism or biowarfare (either directly or indirectly). This idea has come in a number forms, mostly around existing geo-political tensions and anxieties related to China's changing political and economic role in the world and relationship with the US.
This brought to mind how fear of Germans and prevailing 'hate the Hun' propaganda during the WW1 led to rumours of German spies spreading 'polio germs' around New Zealand during the 1916 epidemic. New Zealand newspapers reported these suspicions, which came from various quarters. These ranged from the Women's Anti-German League which proposed the epidemic was "caused by the machinations of German scientific persons sent here for the purpose by the Kaiser to prevent the strength of the New Zealand armies of the future from growing formidable" (Otago Witness, 16 February 1916) to John Payne, then MP for Grey Lynn (Auckland), who said "outbreaks of cerebro-spinal meningitis in camp and infantile paralysis all over the country lent colour to the suspicion that Germans intended to liberate disease cultures" (The Colonist, 11 April 1926).
In December 1916, suspicious Christchurch residents called police fearing German spies were releasing polio-infected flies in a local park (it turned out that the 'spies' were members of the local Microscopical Society collecting fly specimens for classification purposes).
This fear of polio, combined with the fear and anxiety associated with war, stoked by years of deliberate anti-German propaganda depicting Germans as amoral barbaric 'Huns', produced an apparently logical scenario of German spies creating polio epidemics to kill and weaken their opponents.
This was deliberately harnessed by an American propaganda film, which in the end didn't screen until after the war was over. Part of The Eagle's Eye serial advertised as based on real events, it had a similar plot: a German spy spreading flies covered in polio germs throughout New York City, causing the 1916 epidemic there. This topic was likely chosen for film treatment to build support for the war effort precisely because it spoke to existing fears about a disease that was still fairly mysterious to both the public and to medical science, with no reliable means of prevention.
Now, rather than German 'Huns', it is the Chinese who are put in the role of 'the Other', with the added weight of centuries of racist Orientalist stereotypes. This blaming can be explained not only by where the virus emerged, but also because it taps into Westerners' existing anxieties about China's increasing power.
Ultimately, through scientific research under way – some already published – we will have a much clearer idea of how 2019-nCov emerged. But it is worth paying attention to responses that could be dismissed as 'conspiracy theories'. Just as responses to the epidemic emergence of polio allow us greater insight into anxieties about health and modernity in Edwardian Ontario, or wartime paranoia in 1916 New Zealand and the US, reactions to more recently-emerging diseases such as 'Mad Cow', bird flu, SARS, and now 2019-nCoV can tell us something about deep-seated fears and anxieties about our world today.
Dr Heather Battles is a lecturer in anthropology in the Faculty of Arts and researches infectious diseases and epidemics.
This article reflects the opinion of the author and not necessarily the views of the University of Auckland.
Used with permission from Newsroom Coronavirus fake news echoes century-old polio fears 6 February 2020.
Media queries
Alison Sims | Research Communications Editor
DDI 09 923 4953
Mob 021 249 0089
Email alison.sims@auckland.ac.nz