How the For All Our Futures campaign impacted Engineering students
The For All Our Futures campaign was launched to build partnerships and raise funds to provide the enhanced resources and strengthened capability the University needs to have a lasting impact on the challenges we face in a complex and rapidly changing world.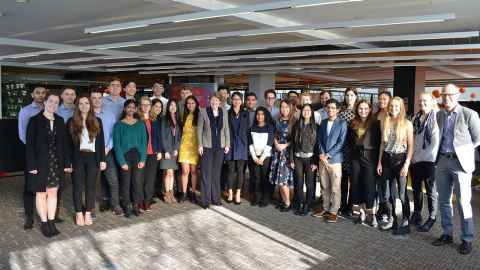 The campaign was built around a series of audacious "Can We" questions that challenged what we might be able to achieve in partnership with our philanthropic supporters. For Engineering, this included questions like "Can we disaster-proof New Zealand?" or "Can we propel New Zealand into a new space age?".
Thanks to our many generous supporters, the For All Our Futures campaign will have a lasting impact for the Faculty of Engineering. From $10 donations to our Student Support Fund, to gifts to fund academic positions and multi-million dollar bequests, every dollar raised has created the chance for our students and staff to achieve something they otherwise would not have been able to do.
Scholarships have created opportunities for students who would not have been able to attend University. Fellowships have helped support our early-career academic staff to develop their research portfolio and, thanks to the generosity of our supporters, we have been able to put in place programmes to encourage more women to study engineering.
One of the areas where philanthropy has made the biggest difference is in our extra-curricular programmes. The Auckland Programme for Space Systems was launched in 2016 and provides students with the opportunity to design, build and ultimately launch a satellite with our friends at Rocket Lab. The student space programme is only made possible thanks to the generosity of our alumni.
This is also true of similar programmes including the hugely successful Dean's Leadership Programme and our high profile Formula SAE team. Philanthropy is essential for funding these unique activities. These are projects and initiatives that go beyond business as usual for the University, but add so much value to our students and staff.
In November, the University announced that at the end of the campaign it had raised a staggering $380 million. The Faculty would like to sincerely thank everyone who contributed to the campaign and enabled us to provide amazing opportunities for our staff and students and helped us to address some of the key challenges and opportunities we face both in New Zealand and beyond
While the campaign has closed, the rapidly changing world in which we live means that the challenges and opportunities never stop. The Faculty of Engineering continues to work with our alumni, friends and partners to grow philanthropic support in order to continue to create opportunities and help have a positive impact both in New Zealand and beyond.
If you would like to find out more about the For All Our Futures Campaign, about the impact of philanthropy at the Faculty of Engineering or how you can make a difference, please get in touch with Paul Cunningham, the Development Manager for the Faculty of Engineering.

For more information contact:
Paul Cunningham, Development Manager, Engineering