Watercare Symposium connects industry need with research potential
A recent symposium was held to build long-term collaborative relationships that benefit Auckland's infrastructure and develop Civil and Environmental Engineering expertise across New Zealand.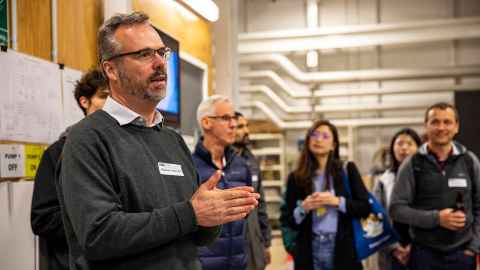 Professor Kobus van Zyl had the idea for the symposium off the back of an Open Labs event in 2019 where industry professionals were able to explore the research capabilities present at our Newmarket Campus. For Kobus, the symposium was a chance to give people within Watercare the opportunity to engage with the Faculty of Engineering in a new way, which was reflected in the day's structure.
After welcomes from the Dean of Engineering Professor Nic Smith and Watercare's Chief Operations Officer Shane Morgan, experts from across a range of Watercare teams and division gave short presentations on the challenges they faced within their organisation and highlight areas where long-term research projects could provide significant benefit.
Some of the areas the presenters mentioned included helping Watercare meet a range of sustainability targets the organisation has outlined, or prepare them for potential regulatory changes. Another presenter talked about the humanitarian pressures they face. He brought up the opportunities they have to improve in situations such as engaging with Tikanga Māori and better understanding how Matauranga Māori integrates with a Western Science style of thinking.
This was followed by presentations from university researchers who were encouraged to talk about how their research "matches or overlaps" with Watercare's needs.
"The idea was to talk about what are our experiences, our research skills, our facilities, past projects, and give key Watercare staff an overview of that."
"They need to have the right expectations on what universities can do - what our timelines are, what our funding opportunities are, what they can expect from us, and the risks involved."
The symposium was intended as a first step towards building long-term relationships centred around collaborative efforts between industry and academia, so it began with a wider focus that can be narrowed down as relationships develop and specific needs arise.
"This was about widening the university, not only engineering but also science and other fields where I can bring expertise towards problems they identify," Kobus explained. "In the future I want to continue this, but I want to do it on a smaller basis. I'd rather in the next one say, well there's a particular need for research on emerging contaminants for example, so let's get those people together, repeat the process and look for opportunities to collaborate in that area".