Liggins graduate wins prize for best doctoral thesis
Dr Elza Cloete has been selected as one of the five recipients of the Vice-Chancellor's Prize for Best Doctoral Thesis.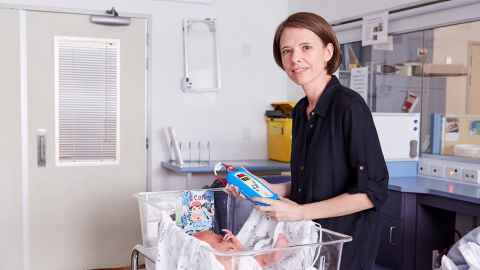 Each year, the Vice-Chancellor's Prize for Best Doctoral Thesis is awarded to the five most exceptional theses successfully examined. Criteria for nomination include the demonstrable significance of each thesis in its field, the originality and excellence of the research, exceptional academic and intellectual achievement, and timely completion. 

17 nominations were received from faculties for the five prizes, out of a total of 462 doctoral degrees successfully completed. The judging panel established to assess the nominations was unanimous in its recommendation for the five people to be awarded the prize, including Liggins Institute graduate Dr Elza Cloete for her thesis entitled 'Newborn pulse oximetry screening'.

It's a huge achievement and the second year in a row a Liggins Institute student has been awarded one. Congratulations Elza!
About Elza's research
Pulse oximetry is a simple test used to detect critical congenital heart disease (CHD) in newborn babies.  CHD is the most common birth defect, affecting between four and 10 per 1,000 live-born babies. When CHD is picked up early – before or immediately following birth – and treated by surgery, survival rates are good. Pulse oximetry is routinely used in parts of Australia and in several other countries, and the Ministry of Health is considering introducing it throughout Aotearoa New Zealand. Universal pulse oximetry screening could prevent the deaths of four babies a year here.
In a study led by Dr Cloete, researchers investigated the success of trials of the screening at Auckland, Counties Manukau Health and Lakes District Health Boards to understand the potential challenges of bringing in a national screening programme.

They found that Māori and Pacific babies, babies from low-income families and babies born at Counties Manukau Health were less likely to be screened compared to other groups.
Dr Cloete says the reasons for these disparities are to do with regional midwife shortages, the fact that midwives in general are overstretched and under-resourced, and specific institutional issues.

She recommends that pulse oximetry screening is nationally-led and properly resourced to avoid "significant inequities", rather than relying on each district health board to introduce screening on its own.