Putting herself in the picture, and being shortlisted as one of Sony top ten
Ashley Tofa is one of ten photographers to be shortlisted in the student category of the Sony World Photography Awards for the series of portraits she presented for her Master of Fine Arts (Honours) at the University of Auckland, and also for her series about Ihumātao.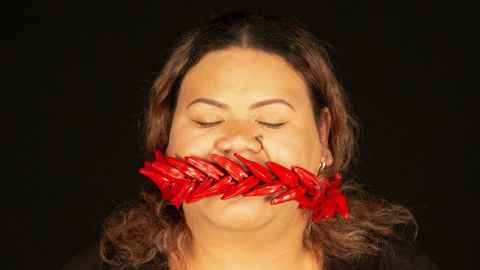 The Student shortlist features bodies of work by ten students at leading higher education institutions from across the world, who were challenged to create two series of five to ten images responding to two different briefs.
The first brief, Invisible Lines, asked students to engage with the stories of people trying to break invisible barriers and structures whether natural, social or intellectual.
Her response, Fa'amoemoega (Expectation), her masters submission, features a series of large-scale self portraits, in which she is biting into or has her mouth covered by different objects - such as the red Ulafala (pandanus necklace), Afa (sennit rope) or Tusipaia (Bible).
Ashley, who is of Samoan descent and lives in Papatoetoe, South Auckland, says her practice revolves around the cultural pressures of fulfilling the migrants' dream, in which the hopes and dreams of her family have played an influential role in how she was raised.
"My parents didn't have the opportunity to further their education at tertiary level and so it fell on us their children to fulfil that dream for them and my grandparents," she wrote in her masters dissertation.
"Growing up as a New Zealand-born Samoan in a Samoan family, my life's path was already determined before I entered this world."
She dedicated that chapter of her dissertation to her "Pacific brothers and sisters who remain resilient in the face of life's challenges, where the pressure to fulfil the migrants' dream is overwhelming".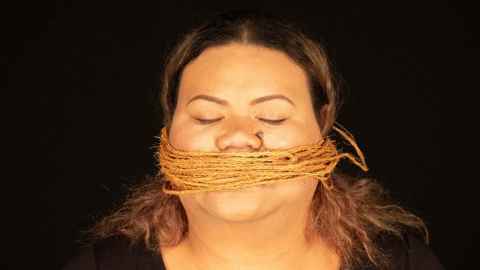 Her art practice has become an outlet for her frustrations, she says. "My clasped jaw and gritted teeth are a metaphor for being silenced, the uncomfortable pressure around my head showing my inability to voice my opinions.
"My artworks are a response to a personal feeling or experience at that moment in my life, as I struggled to juggle the responsibilities placed on me. Through self–portraiture I could own my feelings and have some sort of control on how I wanted the audience to view my work."
The second brief, Sustainability Now, tasked students with producing a body of work connected to environmental sustainability. Her response focused on Ihumātao, a rare cultural heritage and site of protest in Mangere, Auckland.
"For mana whenua, this place embodies sources of identity and wellbeing," she says.
All ten shortlisted photographers have won Sony digital imaging equipment to help complete their project, and the Student Photographer of the Year winner, who will be announced in June, is due to receive €30,000 worth of Sony photography equipment for their institution.
The student shortlist will go on display as part of the planned Sony World Photography Awards 2020 exhibition at London's Somerset House in June.
Ashley says she was overwhelmed to be in the top ten. "It took me a whole day to process how big a deal this was. But I am a great believer in embracing opportunities that come my way and through this many doors have opened for me."
Her parents didn't immediately realise the significance.
"They thought it was a New Zealand competition but when they found out it was worldwide they were super proud of me and my achievements. They laughed and said 'you're famous now', and told me to embrace the moment and be proud of myself."