How to replace the feel-good factor of live sports
Opinion: With no live matches, how can sports fans retain the sense of connection when they are more isolated than ever? Toni Bruce and Margaret Henley explain.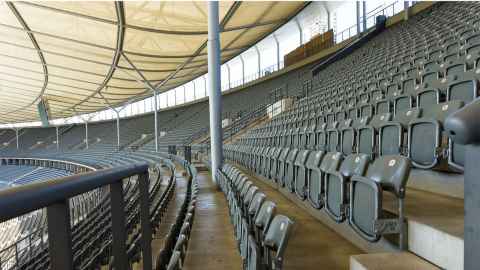 The loss of live televised sport may add another blow to the social and psychological wellbeing of Kiwi sports fans, as New Zealand heads into four weeks of a Level 4 response to Covid-19.
International research shows that being a sports fan can combat social and physical isolation. Following sport offers real mental health benefits, including a higher sense of wellbeing and contentment with your social life.
Even more importantly, sports fandom can reduce feelings of alienation and loneliness.
The power of live televised sport is that it connects viewers to the thousands, or even millions, of other human beings watching at the same time. The unknown outcome adds to the excitement.
American psychologist Daniel Wann argues that identifying with a team, player or sport gives us a feeling of belonging to a group of like-minded people. For Wann, "simply knowing or feeling that you're part of a larger community has long-term positive effects".
The more deeply fans identify, the stronger the positive effect during the Covid-19 outbreak is likely to be. Committed fans reap these benefits no matter whether their team is doing well or badly. Wann's research shows that this sense of connection continues well beyond the last whistle.
A week ago, it was difficult to imagine a world without live sport, despite some sports deciding to play in empty stadiums. It seemed that games broadcast from empty stadiums would still provide the important psychological need for belonging, even if the depth and spatial dimension provided by the crowd audio soundtrack was missing.
The lack of crowd noise can leave television viewers strangely bereft. Sky Sport audio engineer Troy Hix says the missing element of the crowd undercuts the excitement of the broadcast game and can make it harder to take the viewer "where you want them to go" on an emotional level.
Last week, Hix audio-engineered what may be the first closed-stadium sports event broadcast in New Zealand, the Southern Steel versus Waikato-Bay of Plenty Magic netball game, which was closed only two hours before the opening pass. The late decision left Hix drawing on his craft to optimise the available microphones to add the expected texture to the game that would normally be created by the crowd's spontaneous reactions.
The Steel and Magic benches did a magnificent job of standing in for the absent crowd, as the microphones on the benches clearly picked up the fervent support of the reserve players and directions from the coaching staff, enhanced by the reverb of the empty stadium. And the mics on the hoops picked up some of the chat under the goal post. What we lost in crowd excitement was compensated by access to on-court chatter we rarely hear otherwise, although Sky Sport audio supervisor Haresh Bhana wryly noted, the mics sometimes capture chatter that fans don't need to hear.
With no live sport, how can sports ensure that fans retain this important sense of connection and belonging? Many are ramping up their social media activity, giving fans the chance to join dedicated social media groups, or follow players', coaches' and team posts and videos on Instagram, Facebook and other social media.
Sky Sport is exploring options to keep sport flowing to fans, including a dedicated Olympic channel, and replaying entire seasons or major competitions, like netball World Cups, that trigger strong feelings of shared nationalism. The replays may encourage fans to connect with each other through their favoured social media sites as they re-live high points in New Zealand sport.
Some sports are creatively addressing the loss of live events by going virtual, like the suspended Australia Supercars Championship which will offer online virtual races between the top drivers – including Kiwi Scott McLaughlin – to meet the needs of fans deprived of their live sport fix.
The NBA is engaging with e-sport basketball, presenting the rest of the season in virtual match-ups played by professional gamers, and potentially involving current players.
Australasian sports might consider similar options, such as broadcasting players from different teams competing against each other in virtual sports, giving virtual 'tours' of training facilities, posting in-depth interviews with players, coaches, referees and administrators or offering training tips that can be tried at home.
Now more than ever, people need important points of connection that reach across generations, cities, regions and nations to combat isolation. Even if we can't watch our favourite teams live, virtual competitions and social media may be one answer to the ongoing need for connection and belonging.
Professor Toni Bruce is from the School of Curriculum and Pedagogy in the Faculty of Education and Social Work and Dr Margaret Henley is from Media and Communication in the Faculty of Arts.
This article reflects the opinion of the author and not necessarily the views of the University of Auckland.
Used with permission from Newsroom How to replace the feel-good factor of live sports 26 March 2020.
Media queries
Alison Sims | Research Communications Editor
DDI 09 923 4953
Mob 021 249 0089
Email alison.sims@auckland.ac.nz