My instrument: Marie Ross and the joy of the clarinet
While we are saving New Zealand from the spread of Covid-19, many people are saving their sanity by being able to play a musical instrument while in lockdown. For Dr Marie Ross, it's the clarinet.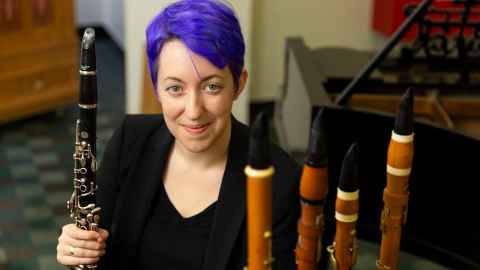 During the Covid-19 lockdown, many people able to play a musical instrument have a perfect outlet for keeping busy. Of course, if you're living next-door to a learner violinist or bagpiper, that might not be so great for you. But the clarinet – now there's a soothing instrument.
Dr Marie Ross from the University of Auckland School of Music is a renowned clarinet player who's a specialist in historical clarinet. She talks about the modern-day and historical versions of her chosen instrument.
What drew you to the clarinet?
My dad was an amateur jazz guitarist so I grew up listening to that. I wanted to be a saxophonist and tried to get an audition for the school youth symphony and they were like 'no, we play classical'. I never really listened to any classical music until a teacher gave me a piece – Mussorgsky, Pictures at an Exhibition. From that moment, I went that way.
Tell us about your clarinets.
I have around 70 … it's a bit of an addiction. I've found most quite inexpensively through good luck on eBay. Sometimes an old clarinet might look ugly and green and you just clean it up and it's a gorgeous instrument. I've figured out how to fix them myself. I made clarinets for a couple of years and still have a couple that are quite nice.
How does a modern clarinet differ?
The modern clarinet is made of a different type of wood – African Blackwood – which is much stronger and thicker. The historical clarinet is made of boxwood, which is softer, more delicate and different in tone. The next obvious thing is that modern clarinets have many more keys. Old clarinets have very few, in fact they started out with just a couple of keys and as music became more chromatic and complicated, gained more. With old clarinets you had to use odd fingering because there weren't the keys to make different tones, so composers wrote for those sort of odd-sounding notes. With modern clarinets, there's a clever fingering system and the keys play easily.
What's it like to change between them?
If you take a Baroque-era clarinet and a romantic period clarinet, they're completely different. Two of my favourites are ones that I played on the recording I did. One is a custom-made clarinet by one of the most important clarinet makers. I found it advertised on a website and I went to try it. For the family selling it, it was really important that somebody actually played it. They'd had two offers to buy it from collectors, but chose me. If you play originals, you have to work so hard on the intonation, because they valued the tone of the instrument over the intonation. The breathing is also very different. The late German clarinet is so massive … and its sound is huge. Because of that, the finger holes are bigger and you need more air to play it, so that's a challenge. I learned it and when I went back to the modern clarinet it was much easier because I developed flexibility and listening skills as a result of playing 'the hard way'.
What brought you to New Zealand?
Once I got my doctorate, I was looking for a university job. I met my husband, who's from Auckland and this job opened up at the same time. I performed for about ten years and it was great but you're always broke and you don't get a chance to make recordings. Here, we have amazing grants that have allowed me, for instance, to travel back to Europe in 2018 to make a recording of Brahms on historical instruments. It was the first-ever such recording so that's an opportunity you'd never have if you just did orchestra work. Also, I really love teaching!
I have around 70 clarinets. It's a bit of an addiction. I've found most quite inexpensively through good luck on eBay.
When did you start at the University of Auckland?
I was hired in November 2016 and started in 2017. I'd been living in Cologne for ten years. Unlike the States, which can have massive performance clarinet schools with 100 students, ours is nice and small. So I may have half a dozen students but I then get to teach academic classes and share lecturing. I like the variety. The School of Music at the University of Auckland is strong on historical music as well as contemporary. Associate Professor James Tibbles, the new Head of School, is a historic keyboards specialist. We also have recorder teacher Imogen Morris, a doctoral student, who teaches one of the performance practice classes with me. And Ben Hoadley teaches historical bassoon.
Generally, what's more important to you, performance or recording?
Recording reaches so many people around the world, more than you can ever do when you play live concerts. For about five years before I recorded Brahms Clarinet Sonatas and Trio on Historical Instruments, I'd travel everywhere I could doing live performances of that repertoire. I researched it for about ten years to find the right instruments to perform on, then had to get them restored and learn how to play them. We all played on original instruments, not copies.
You've performed all over the world. Where's your favourite place?
Probably Paris. People there are so excited and so enthusiastic. There's always a massive response because the orchestra I play with in 'Ensemble Matheus' is really good … people go crazy for it. But it doesn't really matter where, if people are excited about it. In New Zealand, the audience is often older but we're trying to attract younger people too. I've started a wind octet here which has been great. I think it's one of the best ensembles we have at the University.
Favourite composers?
Mozart was the first major composer to write for the clarinet as a melodic instrument. He and Johannes Brahms wrote their clarinet pieces late in life, just before they died. Those are the most brilliant sort of major profound works. Mozart's Clarinet Concerto is massive, more than 20 minutes long. Brahms had retired from composing but he heard a clarinettist record Richard Mühlfeld, whom he really fell in love with, and wrote the clarinet works at the end of his life.
Is the clarinet more or less popular today?
There's not much of a history of clarinet here. At the University, I'm the first contracted permanent teacher to teach it in many decades. But, in 2017, I started the first New Zealand event solely dedicated to the clarinet. The University of Auckland Clarinet Day was so popular that in 2018 it turned into the University of Auckland clarinet weekend. Last year it was in August but we're just working out when we can hold it this year, given the COVID-19 situation.