Architects win major national award, and talk about the good side of online teaching
Two senior lecturers at the School of Architecture have, in their private practice, won the Best Colour and Detail Award in this year's Home of the Year Awards.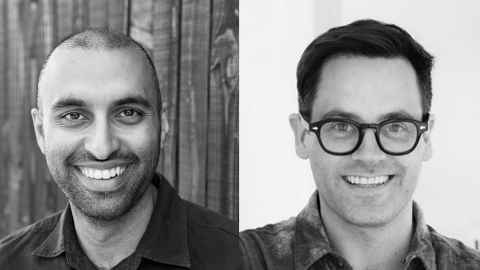 As directors of the collaborative PAC Studio, Aaron Paterson and Sarosh Mulla, and with architect, Steven Lloyd, they designed a house on the outskirts of Wanaka as a series of courtyards, all inside a neat rectangular frame.
"It's a masterclass in detail and colour," said HOME editor Simon Farrell-Green, in the 25th anniversary of the magazine. (This was a new category in the awards, which were announced in the magazine the same week Bauer Media announced the closure of all its publications.)
Wanaka Crib is described in the magazine as having an intriguing, late-modernist feel with graduated weatherboards reaching up to a razor-thin roof edge, with accents of mustard and green against timber, and detailing that exaggerates the aesthetic of southern green roof sheds to create the look of an ad-hoc settlement.
"The devil is in the detail," says Aaron Paterson. "Some parts of the house may appear simple but were frustratingly hard to achieve."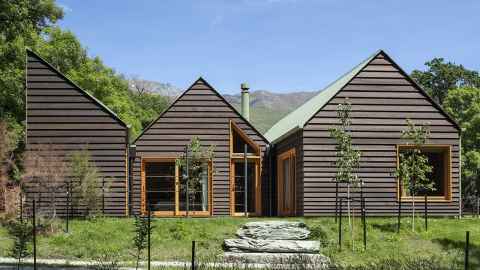 Sarosh Mulla graduated at the top of his class from the University of Auckland in 2008 and completed his PhD in Architecture by Practice in 2015. In both practice and teaching he focuses on "creating immersive architectural experiences that improve people's lives".
His research focuses on the expanded field of the architect, alternative architectural procurement models – that is, enabling people to create architecture in unusual ways and collective/community design with volunteers and community groups. This was an area he explored his PhD project, in the Waikereru Ecosanctuary at Longbush in Gisborne, a haven for rare and endangered species of native plants and animals on the Tairāwhiti/East Coast of New Zealand.
Aaron Paterson also graduated with first-class honours from the University, in degrees in architecture and arts, in 2002. His research areas include post-digital media, extended reality (XR) and a commitment to realising ideas in the built world, and in architectural installations.
Their architecture practice informs all parts of their teaching and research. "Our practice is where we test out ideas we have learned from our teaching and our installation-based research, and in turn, we use that to feedback to the students," says Paterson. The PAC Studio also has scholarship students working for it "which adds to the tight connection between practice and academia".
This award a milestone in their careers and highlights a project that develops their architectural research at the University, says Dr Mulla. "For instance, the way that light and shadow are modulated through the design and the unusual ways the cladding is detailed both come from our research and teaching."
Paterson teaches in a way that gets students to think about the role of different mediums of representation, like models, drawing, extended reality and the use of different software, in producing built works, while Sarosh teaches innovative methods of architectural technology and design which highlight the importance of both technical skill and poetic realisation of ideas in built form.
Both are committed to sustainable design, as was their client of the Wanaka Crib, and which is evident in many features of the design such as the use of recycled materials: native rimu flooring from an old hall in Clyde repurposed as ceiling and daybed lining, recycled kauri timber repurposed as cabinet fronts and shelving, and repurposed Middle Earth Tiles, leather, pendants and table tops from the client's old restaurant.
At time of writing, and the week in which they won the Design and Detail category, the pair had just completed their first week of online teaching. It had been a remarkably smooth transition says Patterson.
"Students in my 2nd year Media class have been proven resilient. There are lots of innovative ways to teach remotely, that when the disruption is over, I'll incorporate into my teaching."
One example of an unexpected innovation is recording Zoom meetings with architects talking about their drawing practice, he says. "Seeing New Zealand architects talk to their drawing and unpackage their techniques is fantastic for our students."