No conference? No problem
A creative solution to the fact that academic conferences have had to be cancelled all over the world because of Covid-19, Cancelled Conference Conversations, a virtual symposium series, is looking for interested speakers.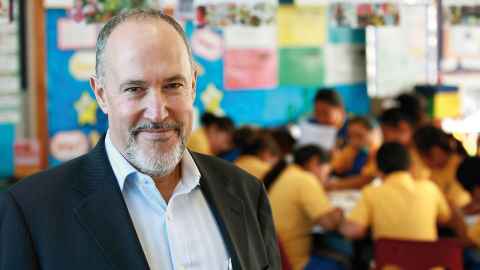 Initiated by the consortium of Associate Deans of Research in universities across the country, the idea is to share scholarly expertise and research from presentations scheduled for now-cancelled conferences around the world via Zoom.
Dr Aaron Wilson, Associate Dean (Research) in the Faculty of Education and Social Work, says the Associate Deans of Research from Canterbury, Wellington, Massey, Waikato, AUT and Auckland had already formed a group in 2019 to promote and advocate for educational research across Aotearoa.
"Under the leadership of Bronwyn Cowie from the University of Waikato, we decided that one practical thing we could do at this time was provide a forum for academics to present and discuss papers they had worked hard to prepare for conferences that had since been cancelled. After much discussion to find the cheesiest and most alliterative title, Cancelled Conference Conversations was created," he says.
Each session in the symposium series will last for an hour and involve several speakers offering a 15-minute provocation, snapshot of work-in-progress or synopsis of a conference proposal. The series has the following five streams, with other ideas welcome:
Teaching and Learning in Digital Environments, hosted by Dr Aaron Wilson (University of Auckland)
Governance and Collaboration, hosted by Associate Professor Annelies Kamp    (Canterbury)
Policy and Theory, hosted by Associate Professor Leon Benade (AUT)
Assessment, hosted by Professor Bronwen Cowie (Waikato)
Wellbeing, hosted by Dr Joanna Higgins (Victoria University of Wellington)
For expressions of interest in Cancelled Conference Conversations, send your name/s (co-presenting is possible, albeit from different locations), a title for the presentation and two or three sentences outlining its scope to: bronwen.cowie@waikato.ac.nz as soon as possible.
Developing in Digital Worlds
The first in the series, Tuesday 7 April from 2pm to 3pm, features Professor Stuart McNaughton from the University of Auckland's Faculty of Education and Social Work, who will be discussing his Developing in Digital Worlds project, developed with colleagues at the Woolf Fisher Research Centre.
It is the first study in the world to identify links between teaching, family participation and game-based learning to promote educational outcomes and equity. The three-phase project, which involved early childhood, primary and secondary schools, teachers, students and their parents, aimed to answer three key questions:
How does participation in the digital world influence children's cognitive and social development? What skills, knowledge and capabilities do children need to manage, engage in and benefit from the digital world? And how can family, educators and society effectively support children's involvement in that world?
This new knowledge will inform ways to accelerate national achievement through digital environments in English, maths and science, for students aged four to 17, and in Māori contexts.