NZ among global marine life hotspots
Scientists have identified the world's ocean hotspots where the widest variety of marine life can be found and say their work provides a roadmap to meeting long-held conservation goals.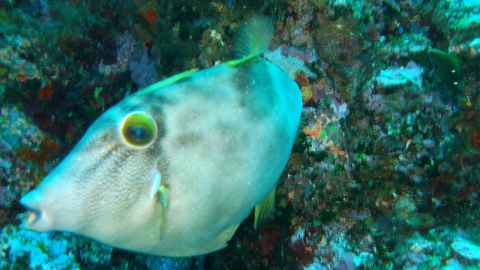 Researchers at the Marine Biodiversity Research Group at the University of Auckland say the new biodiversity map is the most detailed and comprehensive to date because it includes 27 different datasets with information on everything from genetics to whole ecosystems, and builds on data from 65,000 species.
Protection of oceans through restrictions on human activity in areas of high biodiversity has been discussed at an international level for some decades. The United Nations Convention on Biological Diversity which included marine life was issued in 1992.
Since then, the International Union for Conservation of Nature (IUCN) World Conservation Congress has added its voice to the call for full protection of 30 percent of each marine habitat and at least 30 percent of the ocean.
So far only 1 percent of marine areas have been protected, far short of the 10 percent global target agreed in 1992 under the Convention on Biological Diversity and in the United Nations Sustainable Development Goals.
But the new map shows clearly where that 30 percent would best be located, says lead author and former University of Auckland PhD candidate Dr Qianshuo Zhao.
"Our map shows where marine protection would make the biggest difference so that just by protecting the 30 percent the IUCN calls for, the priority areas would better protect 94 percent of coral reefs and mangrove forests, 86 percent of kelp forests and seagrass meadows, and 68 percent of all marine species."
The diversity hotspots were mainly on continental coasts, island arcs, oceanic islands, the southwest Indian Ridge, the northern Mid-Atlantic Ridge, the Coral Triangle (around Indonesia and Philippines), Caribbean Sea, and Arctic Archipelago.
New Zealand was among the list of countries that could contribute the most in terms of newly-protected areas along with Canada, Australia, USA, Greenland, Indonesia and Russia, the research found.

Some one to five per cent of New Zealand's seas are fully protected at present (according to the MPA Atlas and WWF respectively), but the government is calling for public comment on its planned network of Marine Reserves off the south-east coast of the South Island. The government website states "The aim is to have 10% of New Zealand's marine environment with some form of protection by 2010."
More than half of the 30 percent priority area mapped was coastal and so countries could choose to unilaterally protect it, Dr Zhao says. The remaining 42 percent was on the High Seas where international agreement would be needed.
Professor Mark Costello of the University of Auckland's School of Environment said despite objections by the fishing industry, research showed reducing areas available for fishing did not reduce catches in the long-term.
"The evidence suggests the reverse because protected areas form breeding and nursery areas for fish such that fish flourish there and spill out into the adjacent fisheries," he says.
"Increased protection would benefit and increase fisheries cost-efficiency and productivity, as well as protect species threatened with extinction because of collateral damage such as fishing by-catch."
Data used to produce the new map includes:
• Species richness based on modelled ranges of 25,000 species (including deep sea etc.) nested within 30 realms of endemicity based on cluster analyses of 65,000 species
• Modelled ranges of the four major marine biomes, shallow corals, mangroves, seagrass and laminarian kelp
• Seabed topography as an indicator of other major seabed habitats
• Seven world shallow-water marine ecosystems based on cluster analyses of 20 environmental layers (including seabed slope and depth, current and wind velocity, wave height, distance from land, sea surface temperature, salinity, pH, oxygen, chlorophyll concentration and primary production, nutrients, ice cover)
The research is published in Biological Conservation.
More details and background research here or read this story in Chinese here