Sexuality in the time of Covid-19
Opinion: This unprecedented situation is likely to significantly impact the sexual practices of the population, argues Professor Louisa Allen.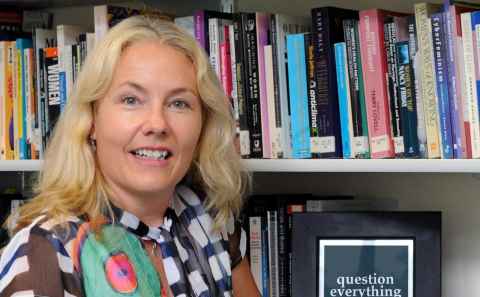 The field of critical sexuality studies in education is no stranger to the disruption a virus can wreak on the everyday and intimate lives of a population. The HIV/AIDs pandemic has cost millions of lives and changed sexual practice by encouraging the use of condoms via safer sex campaigns.
What is different about Covid-19 however, is that currently, there is no evidence of sexual transmission i.e., via semen or vaginal fluid. However, Covid-19 can still be contracted via sex with an infected partner through respiratory droplets found in saliva, the air and on surfaces, like the skin.
What makes this virus unique is that it has triggered a global lockdown, closing national borders and confining people to their homes. This unprecedented situation is likely to significantly impact the sexual practices of the population. For those whose 'bubble' contains their sexual partner, sexual activity might become a coping strategy for the stresses of lockdown.
This possibility is reflected in media predictions that condoms may be the next item in short supply, and that in nine months' time, maternity wards will see an upsurge in mothers birthing. Conversely, the worries and anxieties associated with Covid-19 will extinguish sexual desire for some people. In a poll of just over 9,000 readers from NBC news, nearly half (47%), already indicated their sex lives had been negatively affected by the virus.
As a result of enforced isolation, 'dating from home' has become a new form of connecting.
Like many other elements of our daily lives in lockdown, such as schooling, doctors' appointments and fitness classes, the response is to express sexuality online. While sexuality has had an online presence since the advent of the internet, in the form of pornography and dating apps to find potential partners, Covid-19 has seen the internet increasingly become the 'go to' means of conducting intimate relationships.
The dating app Bumble for instance, reports that globally there has been a significant rise in numbers of messages sent (up 23%) and use of in-app videos (up 31%) between its members since mid-March. Tinder users are also mentioning the coronavirus in their bios, and using the pandemic as a conversation starter, because it is something everyone currently has in common.
As a result of enforced isolation 'dating from home' has become a new form of connecting. Instead of getting drinks at a bar, or meeting for coffee, people are conducting virtual dates from their own living rooms. To make this experience more authentic, dating apps are providing 'date backgrounds' including beach scenes equipped with picnic rug and wine, and bars with shelves full of alcohol.
Couples can set up parallel dating scenarios at home, like having drinks and dinner while on a video call together. There may even be some advantages to 'virtual dating', like conducting a first date from the comfort of your couch, wearing whatever you want (e.g., pyjama bottoms). For others, virtual dating enables them to develop a relationship more slowly. And of course, if the date isn't going well, or, the other person starts acting inappropriately, you can just cut the internet connection.
The big question though, is whether 'virtual dating' will prevail once lockdown ends, or will people revert to 'old-fashioned' face-two-face contact?
Louisa Allen is a professor in the Faculty of Education and Social Work at the University of Auckland and a sex education expert.
Media contact
Julianne Evans | Media adviser
Mob: 027 562 5868
Email: julianne.evans@auckland.ac.nz