The lowdown on lockdown learning
ZhuZhu (Judy) Jin is studying her first year of a conjoint Design and Commerce degree, and it's not quite as she expected!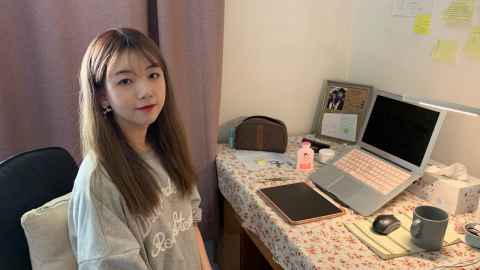 Although it's business as unusual at the University during this lockdown period, our students are quickly getting to grips with their new-look learning environments and a sudden shift to online study.
At a time when they should be returning from Easter Break, sharing stories of their adventures in bulging lecture theatres and ordering their graduation gowns, campuses are instead encased in silence and our students separated - many by closed borders and continents.

On 31 December, 2019, Beijing-based first-year student Judy Jin was enjoying her final few days holidaying in Dubai. At this point, she was looking forward to starting an exciting new chapter in her life studying Design and Commerce at the University of Auckland. Sadly, and reportedly on the same day, an invisible storm was also preparing a global journey of its own, in the form of what we now know only too well as novel coronavirus, Covid-19.

On 28 January, 2020, the first Covid-19 fatality was announced in Beijing. By 3 February, a further 212 cases of the virus had been reported across the city prompting New Zealand to declare travel restrictions on those flying in from China. At the same time, Judy waved goodbye to her friends and family and set off for Auckland in anticipation of her most exciting challenge yet.
Studying overseas is like opening a door to a whole new world, where you learn how to communicate with people from other cultures, and grow to become an independent adult.
However, upon arrival into Hong Kong that evening, Judy's dreams turned to dismay, and the enormity of the situation began to sink in.

"I flew to Hong Kong for a connecting flight and was refused boarding at the last minute. I was, of course, very disappointed and upset at first, but I understand as it's for the sake of everyone's safety."

Once it became clear that students travelling from China would be unable to start the semester on campus, the University briskly drew up emergency online study plans for affected international students. Students were given the option to either proceed with online study or withdraw from all courses and receive a refund of their tuition fees. Although several students have, understandably, chosen to defer their first year until 2021, Judy made the decision to persevere with lockdown learning and give it her best shot. 

"Many of my friends in the same situation as I am decided to take a gap year and start again next year. But I've chosen to carry on and see how it goes. A lot of people are just stressed and scared as things are not going the way that we expected, but the best thing to do now is to try to adjust to it, and that's what many of us are doing."

All online materials were up and running by the first day of semester with all remote students assigned their own 'study buddy' for additional support. And the new online study set-up is clearly working well for students across the University. Online Design lectures, for example, have been achieving a 90% attendance rate, far exceeding physical on-campus turnouts.

"Most of my course content is now carried out with lecture recordings on Zoom. I also have regular Zoom meetings with my professors and peers for tutorials. My professors from the Design department are also using WeChat to communicate with Chinese students and my study buddy Cecilia calls to check up on me." 

It's been working pretty well so far and I do think the Faculty are doing everything they can to support us. I'm very grateful for that!
Of course, a lack of face-to-face engagement with lecturers, other students, and the trials of timezones can present challenges to overseas-based students which may result in compromised study habits.
"My biggest challenge was to stay on top of my assignments! The good thing about remote study is that it allows me to manage my time with a lot more flexibility, but I feel like my procrastination has got worse! Also, the time difference between China and New Zealand is another issue. One of my Zoom tutorials is scheduled at 10am New Zealand time every Thursday, which equates to 5am in China; I'm sure you see the problem here!"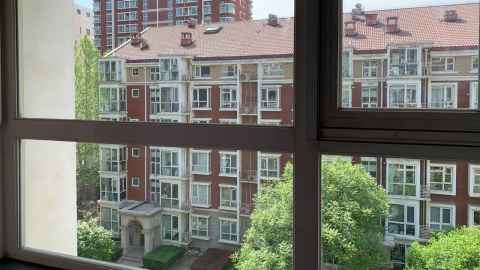 Yet despite the distance between them, Judy has been able to foster firm friendships with her fellow students.
"I've been talking to my Chinese classmates on the design course who are also doing remote study. There are a few of us in a group chat for remote learning, so we're pretty close. I also chat regularly with my classmates in New Zealand on Discord."
There are currently 40,000 University of Auckland students studying remotely. For those like Judy who transitioned to online study earlier - part of the 90-strong Creative Arts and Industries cohort in China, learning - the lockdown way - is becoming much more manageable.
"A trick that I found works for me is to find something that gets me 'in the zone'. I now have a habit of getting dressed, putting on makeup, and having a cup of coffee ready on my desk. This is my way of telling myself that I'm ready to face the challenges today. This makes me feel more confident when I'm working and it increases my efficiency. I also have a to-do list, and I'm trying to keep up with it every day to make sure that I'm not falling behind."
As the situation starts to settle down in China and lockdown laws begin to lighten, Judy feels positive about continuing her design degree with her new online community.
"I'm very excited and looking forward to the rest to my degree! I've been enjoying all my courses so far, and as much as I'd love being back in Auckland, I feel like online studying has been working well for me too."
Overall, the learning experience has been great and I'll carry on to make my best effort no matter when I can return to Auckland.
At the University, we eagerly anticipate welcoming our international whanau back to campus as soon as our borders are back on their feet. Things are just a little bit different this year, but we are all learning and adapting to new ways of living and being.
It's times like these you learn to live again.