Bassist, composer, arranger and educator Dr Olivier Holland, School of Music, has performed all over Europe and the US, but could recently be heard performing live from his bubble.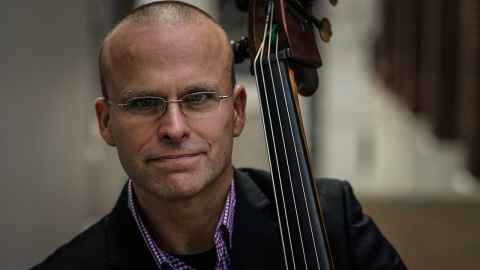 What has been most challenging for you over lockdown, as a jazz musician?
Obviously, not being able to collaborate face-to-face with other musicians. So many live gigs around the world and in New Zealand have come to a halt. Isolation takes its toll on all kinds of people in many different ways, but I'm particularly missing the social aspect of music-making.
You appeared on BFM on Easter Sunday in Bass from the Bubble, in which you played the bass live on air and, as suggested by the name of the programme, from your bubble. Can you tell us more about the pieces you performed? 
I set myself the challenge to play two pieces that were bass solo/root note/melody features that put the bass into a different role: carrying both the harmony and melody while also adding a percussive aspect. The first piece is a work I wrote for upright bass back in 2012, originally for duo. The second piece, featuring the electric bass, is an improvisation on a modal D-minor chord. The challenge for both also was to play the tune in 'one hit', meaning no edits afterwards, making it as 'live' as it can be given the lockdown situation.
Isolation takes its toll on all kinds of people in many different ways, but I'm particularly missing the social aspect of music-making.
Can you elaborate on the differences between the sound of the electric and the upright bass?
Electric bass has a very 'fast' and direct tone, that  allows for technical agility and performance of complex and challenging grooves or solos, aspects which at I particularly like. The upright bass' tone opens up all kinds of doors for all kinds of frequencies, making it very rich overall. I'm not someone who sticks to these instrumental properties too much, but I like to take these properties across to another instrument, such playing funky electric bass stuff on an upright bass , which is one of my specialties. I did this in "Chameleon" by Herbie Hancock arranged for double bass.
Thoughts from your bubble, on teaching jazz online?
We all practice more, which is fantastic. I welcome most challenges and teaching jazz online has been one. All of a sudden we were forced to learn all this software – it's like a giant kick in the backside. While this has caused a lot of extra work in the initial stage, it has also been new and exciting. Most of us needed to learn a lot in a short time.
Some music topics are much more online-friendly than others. We'll get a good idea of what works in lockdown, and what will work better in a one-on-one environment, once lockdown is over. During Zoom teaching sessions, having a good tech setup on both ends certainly helps.
The hardest part of teaching online?
Teaching ensembles has been particularly challenging. To do this, we've had to improvise and adapt the coursework in order to maintain our ability to work as a group. We therefore shifted towards working with online recording software that allows students to collaborate on a project and to layer tracks one after other, which is how much of pop music is produced. While the band may not be able to physically perform together, they are learning vital skills such as how to play to a metronome click, learn the software and about the process of using it and so on. In other words they are working like music producers, which is an extremely valuable experience.
What are you looking forward to most when Level 3 ends?
More social interaction, playing with people, playing gigs!