The reunification of improvised dance and jazz
When a dancer hears music, their body reacts and gives way to movements that bring the sounds to life, but what happens when it's the other way around, when the musicians respond to and are led by the dancers?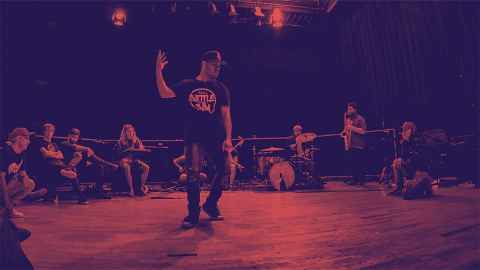 This is an approach to music and dance that has been explored and is being showcased in the dance festival, Tempo, made available online this week and featuring Krump dancers from Lighthouse Famz and five jazz students from the University of Auckland.
The two teams joined forced to explore the art of improvisation through Krump, a dance style characterised by stomps, jabs, chest pops and arms swings. The style of dance is usually improvised, and was popularised in the US by young people who developed it as a way for them to escape gang life and express their emotions in a powerful but non-violent way.
Lighthouse Famz is a dance collective based in South Auckland that provides development opportunities for young people in their communities. The band was made up of five students from the University of Auckland's School of Music, led by Keith Price, a Canadian guitarist and composer who moved to New Zealand in 2019 to join the jazz faculty at the University.
Jazz music originated in New Orleans, USA about 100 or more years ago, he says. "Years before, plantation owners were known to sell slaves who were able to speak a common language. In many cases, African slaves, who were diverse and multi-cultural, had to rely on music and movement to communicate and express themselves."
"In general, the music followed the movement, so when we asked our jazz students to watch and follow the dancers during our improv sessions, both 'different disciplines' effortlessly joined together… perhaps in some kind of similar way as they had been joined in the past. The creative impact was immediately felt by both groups. What you see in the video is unplanned and unrehearsed and is the first time all nine artists met on stage … and in life!"
While their piece is being presented in the Tempo online festival (13-17 May from 1pm) it was recorded at the Kenneth Myers Centre on October 9th, 2019 as part of the School of Music's Jazz Forum, supported by Joyce Fisher Trust. The piece can be watched anytime until midnight, 17th May.