Young mathematician's work described as 'clever' and 'beautiful'
Dr Jeroen Schillewaert has been awarded the prestigious Hall Medal for the quality of his research and its international impact, the first New Zealand-based researcher to win the award.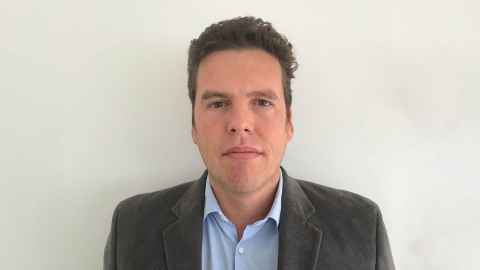 The medal, from the International Institute for Combinatorics and its Applications (ICA), recognises the work of mid-career researchers who have made significant and broad contributions in their field. The ICA called Dr Schillewaert's work "remarkable and beautiful" and "very clever".
His research is in Combinatorics, an area of mathematics, computer science and engineering primarily concerned with properties of finite structures and the study of Geometry and Symmetry which was founded by the ancient Greeks and remains an active research topic in contemporary mathematics.
Dr Schillewaert has made contributions across a broad range of topics including finite geometry, probabilistic combinatorics, linear algebra and group theory. He is considered a world expert on abstract geometrical structures and the combinatorial and geometric structures which have applications in coding theory and cryptography.
He acknowledges that his career is difficult to explain to the layperson and, because it is theory based, he does get asked what applications in the real world it might have.
"The word used is 'impact' and that's one I don't like much because it implies my research should result in something which is likely to be used in the everyday world but I argue there has to be room for pure intellectual curiosity and the study of abstract fields.
"Back in the 19th Century, research on finite fields would have been viewed as having zero impact but is now probably the most widely used concept since the emergence of the personal computer."
As with many theoretical mathematicians, what he loves most about what he does is the relative freedom to set his own research agenda and one of the most rewarding aspects of that is the joy derived from solving a difficult problem.
"This is especially true if it's a long-standing problem and is the result of an inspiration that results in a clear improvement of our conceptual understanding rather than the hard slog of case-by-case calculation and analysis.
"It is as enjoyable as it is rare."
Born in Belgium, Dr Schillewaert completed his PhD at Ghent University before making an "adventurous" move to Christchurch in New Zealand. Six weeks before he was due to leave, he met his future wife Emma and persuaded her to move with him to Brussels.
"I must have been charming then because she agreed," he says.
After also living in California and London, the couple returned to New Zealand where Dr Schillewaert was offered a position at the University.
He is due to receive the medal at the Annual Combinatorial Mathematics Society of Australasia in Melbourne in December where he will be a guest speaker but as with most things, Covid-19 may have the biggest say about that.
"I really hope I can pick it up in person but we will have to see."