Budget's worrying debt-to-GDP red flags
Opinion: Projected debt of 50% plus of GDP by 2023 could pose a risk for a small island nation very much dependent on global economic trends, writes Ananish Chaudhuri.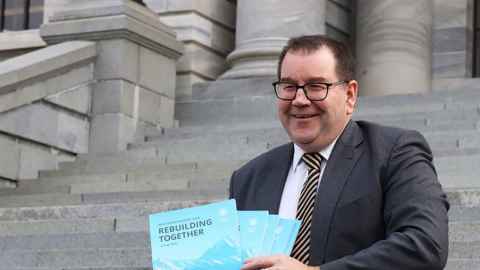 The Budget presented by Grant Robertson was along expected lines.
There are good things and some not so good. It is not always clear as to what a reasonable response to a Budget should be.
Should the boost be $60 billion as opposed to $50 billion? Should the wage subsidy be higher or lower? It is easy to nitpick some of these things since there are often no clear answers, and most outsiders are not privy to the advice or information available to Cabinet.
Clearly, the Government realises that the economy has taken a big hit and they have tried to do their best to address this. In response, they have decided on a massive program of deficit spending to minimise the downturn and job losses. This is reasonably straight-forward Keynesian policies. Reasonable people can disagree on the details. So, rather than second guessing the finance minister, I am going to confine my thoughts to some of the features of the Budget that stand out for me.
First, the prediction that nominal GDP is poised to fall by 4.6 percent this year and more the following year before starting to grow again. Unemployment is tipped to grow to nearly 10 percent. These are pretty dramatic. This is worse than the recession that followed the global financial crisis, when real GDP declined by 2.2 percent and the unemployment rate peaked at 6.9 percent.
What is even more striking is the prediction that by 2023, debt will be more than 50 percent of GDP. I am assuming this is public debt and does not account for private debt. I am by no means a deficit hawk, but this level of debt-to-GDP ratio poses risks for most nations, let alone a small island nation very much dependent on global economic trends.
This level of borrowing will certainly put upward pressure on real interest and exchange rates and counter-act to an extent RBNZ's quantitative easing efforts. The net effect is anyone's guess since a lot of it will also depend on what is happening to rates in other countries.
We should expect to see current account deficits in the near future and I expect the export sector to take a hit in the foreseeable future.
The idea of extending the wage subsidy is good and was probably inevitable. But the wage subsidy will only be available to businesses whose revenue has fallen by at least 50 percent. It is not clear what recourse is available to businesses that went bankrupt.
In that sense, I expected to see some targeted transfers in the Budget, but these did not materialise except for the increased support for school lunches. Many of the policy instruments proposed are rather blunt ones and their efficacy is ambiguous. More could have been done to directly target those who have lost their livelihoods .This includes out of job migrant workers.
Overall, the budget much as expected but with some significant red flags in terms of the steeply increasing debt-to-GDP ratio.
Ananish Chaudhuri is Professor of Experimental Economics at the University of Auckland and during January-June 2020 he is Visiting Professor of Public Policy at Harvard Kennedy School.
This article reflects the opinion of the author and not necessarily the views of the University of Auckland.
Used with permission from Newsroom Budget's worrying debt-to-GDP red flags 15 May 2020.
Media queries
Alison Sims | Research Communications Editor
DDI 09 923 4953
Mob 021 249 0089
Email alison.sims@auckland.ac.nz