Innovative Faculty projects attract health funding
Could we use new drugs to replace ventilators which damage the lungs in critically ill patients? Could co-design and augmented reality be the answer to motivating older adults to exercise for stroke rehabilitation?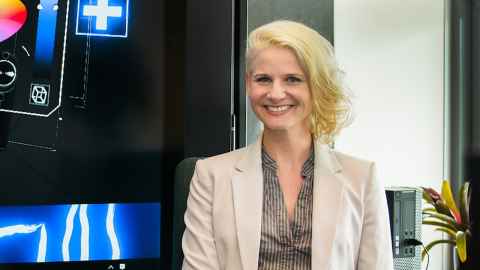 These questions are being addressed through three Faculty of Science research projects awarded a total of $450,000 in funding from the Health Research Council's Explorer Fund. Overall the University received $1.35 million for nine research projects.
School of Biological Sciences Professor Anthony Phillips has been awarded $300,000 over two years for two research projects and Dr Danielle Lottridge is awarded $150,000 for her project investigating the use of virtual reality to help stroke patients in their rehabilitation.
Dr Lottridge's transformative intervention combines socio-digital technology with a Māori model ''te whare tapa whā' which builds on iwi involvement while concurrently supporting physical, mental, whānau and spiritual health.
She is currently working with ARA Journeys, a 100% Māori owned digital tech company, on developing a prototype and preliminary concepts and will evaluate their effectiveness through field testing with Māori and non-Māori elders affected by stroke, together with their whānau.
Professor Phillips' project investigating lung protection during critical illness receives funding of $150,000 over two years and focuses on critically ill patients and the preservation of lung function. In acute or critically unwell patients, lung function can be compromised and mechanical ventilation is required.
Unfortunately this process of forcing air into patients' lungs can cause additional damage resulting in a condition known as ventilator induced lung injury, characterised by swollen and inflamed lungs which adversely affects patient outcomes.
To date, treatment has focused on lessening injury but Professor Phillips instead proposes drug treatment that, for the first time, would prevent ventilator injury. He will test a new drug class in models of VILI to support the case for clinical development.
Another project led by Professor Phillips looks at lymphatic function and the build-up of fluids which can result in a condition known as oedema which can occur after surgery and in particular after mastectomy.
Oedema is caused by the capillaries in lymphatic vessels carrying an excess interstitial fluid from around cells that is not picked up by capillaries and venules so that the process of transporting blood and nutrients to skin becomes degranged and tissues become overloaded with fluid.
Currently there is no way to easily assess lymphatic function but Professor Phillips and his team propose a new measurement system to enable lymphatic function assessment at the bedside. This project is also funded with $150,000 over two years.