Lovable bear a social media star during lockdown
A lovable bear has attracted an international following since his adventures during lockdown have been shared daily on social media.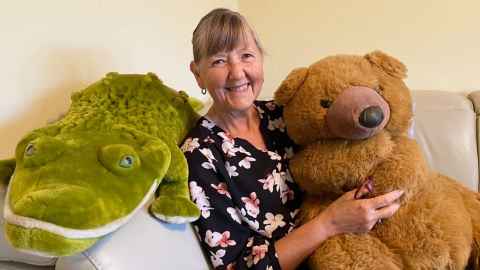 A four-part homemade picture book series featuring Bear and his partner in crime, Alligator, is the invention of Carol Mutch, a professor in the Faculty of Education and Social Work at the University of Auckland.
An expert in ways to engage children after traumatic events, Dr Mutch says the idea for the series initially came about as a way to entertain family and friends and "keep sane" during the first two weeks of lockdown, but then took on a life of its own.
"Those first weeks were so stressful, getting all my courses transferred to online and learning about Zoom and recording podcasts and YouTube videos. And I just found myself out with my phone camera taking photos of Bear, who is actually my son's old toy, in a variety of settings around our rural property near Christchurch."
Bear's story ended up mirroring what was going on in her own 'bubble' at home.
"We had the sad death of my auntie, so Bear reacts to that, I was the designated shopper so I had my regular trips to the supermarket, (Bear likes honey of course!), we went out to get our flu jabs, there was Easter weekend, standing at the gate on Anzac Day morning, watching the prime minister every day at 1pm… and Bear did all of those things as well. I had such a lot of fun dreaming up his adventures and propping him up so he looked realistic in each setting."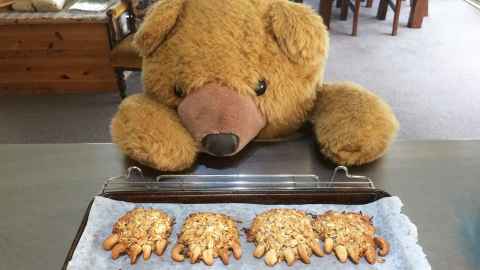 What she wasn't prepared for was the snowballing response after she posted Bear's latest adventure on Facebook each day at 8am.
"He developed a worldwide following, people sent in bear pictures and videos introducing their bears, and adults engaged as much as children; they talked to him as if he was real and poured out their hearts."
However after four sets of adventures that take Bear and Alligator through several weeks of lockdown, she says she needed to get her life back so Bear had to go into 'hibernation' in the toy box.
"Some of his Facebook followers actually cried, it was so therapeutic for people on their own and he became their daily companion."
But Bear's fame has lived on, and a primary school class in West Auckland were so inspired by his adventures they made a sequel, Bear Comes Back to School, using one of their teacher's bears, Angus, who had to adjust to life at school during the level 2 response to Covid-19. Now other schools from all over New Zealand are sending her their own Bear stories.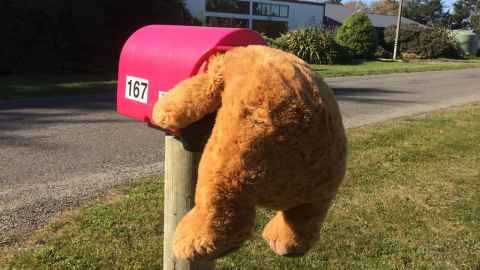 And as Dr Mutch says, the series is not just a story about a toy bear.
"It contains many aspects of life under lockdown that readers will resonate with, and it also provide parents and teachers with an opportunity to discuss Bear's adventures with their children and relate them to their own experiences."
She has already had interest in publication and says that while things are too busy right now, it might be a nice thing to consider in the future as a record of how New Zealanders lived under lockdown and as a resource for schools and families.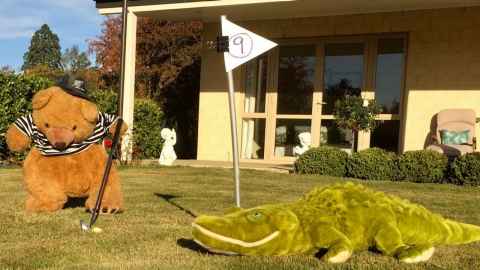 "I never expected that something that started out as fun would touch the lives of so many people, young and old," she says.
"I think Bear came along just at the right time. His antics mirrored the rollercoaster of emotions that we were all experiencing in level 4 lockdown, but it is fitting that he has now gone into hibernation. I wonder what he will find when he wakes up in the spring?"