Massive effort to rehome furniture
Nearly 80 tonnes of surplus furniture, the equivalent of 13 elephants, was rehomed by the University of Auckland just prior to lockdown.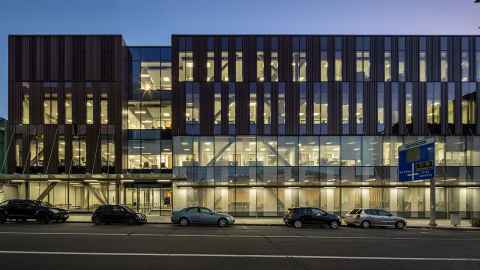 Approximately 220 staff and students from the School of Medicine were relocated from Auckland Hospital to the new B507 Faculty of Medical and Health Sciences Grafton building on Park Avenue. The Faculty previously occupied space in Auckland Hospital for academic and professional staff, teaching, clinical research and patient care.

Mark Neal, the University's waste minimisation specialist, says the bulk of items including desks, meeting tables and bookcases were able to be saved from landfill.

"We successfully rehomed nearly every item which was incredible given the logistical challenges we faced," Mr Neal says.

The move was months in the planning with Property Services, the Faculty and the School of Medicine, and the Auckland DHB working together to reduce the environmental impact.

Contractors and University staff worked day and night to complete the move, working around the challenges of a functioning hospital, including the restriction of only using lifts between 6pm and 5am, and an asbestos scare which required work to stop for 1.5 days.
We successfully rehomed nearly every item which was incredible given the logistical challenges we faced
A massive 78 tonnes of surplus furniture was diverted from landfill, the majority of which was rehomed and repurposed to community groups and resource recovery networks via Junk Run. This included MDF items which are difficult to repurpose as they are usually considered single-use. Furniture was also diverted via charity All Heart, and some pieces were gifted to the Auckland DHB.

Project Manager Nicola White said the whole programme was made significantly easier by the strong collaboration of many teams within Property Services.

"Transparent and open communication were key to our success," Nicola says.

Junk Run CEO Fionna Gotts said: "It is great to work with an organisation like the University of Auckland who recognise the importance of sustainability and the importance of reuse and reallocation as opposed to recycling".