Folko Boermans' film: the man who wants to leave his brain to Richard Faull
Thirty years ago Brently Ford, now 80, went to an open day at the University of Auckland Med School. That's when he decided he wanted to donate his brain.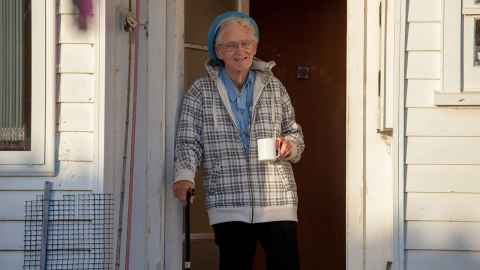 When Waiheke Island resident Brently Ford attended an open day at the University of Auckland around 30 years ago, he had an almost spiritual moment.
"I went to an open day at the Med School and there was such enthusiasm of all these students with the organs and brains. I can remember holding a brain in my hands … something changed. It was a life-changing event. I thought 'this is where I belong… but not yet!'"
He decided he wanted his brain to go to science, specifically to University of Auckland neuroscientist Sir Richard Faull, head of the Centre for Brain Research (CBR).
Folko Boermans, who for six years has been Creative Director in the University's Media Productions team, has a background in directing music documentaries, art magazine programmes and historical documentaries. The former editor for BBC Scotland, who won an editing BAFTA for a documentary about Mark Everett of The Eels, heard about Brently's wish from an academic staff member. He was intrigued by the story and decided to meet him.
"I was working on a teaching video project for Anne O'Callaghan and she explained the story about a man who fell in love with the brain. He made it his mission to donate his brain after he's passed away to the Centre For Brain Research. She said he was an interesting character."
Brently is now the subject of a documentary, I Want to Give My Brain to Richard Faull, that's taken two years of Folko's spare time outside of work. It will screen at the online-only Doc Edge festival on 22 June and again on 3 July. (The festival runs 12 June to 9 July)
Brently, who is 80 years old and lives alone, says in the documentary that he's worried his brain won't get where it wants to go in time.
"One of the issues he's really worried about is that he could die overnight, and nobody's going to notice he's dead," says Folko. "But his brain needs to be at the CBR within a few hours to be of use, which is a little tricky if you are on Waiheke."
Professor Sir Richard Faull says while it's important that the Human Brain Bank receives the brain as soon as possible after death, there's a bit of leeway.

"It's preferably within 12 hours and certainly within 24 hours," says Richard. "That's why it's important to make sure the donor's next of kin know of their intention and can notify us immediately after the death."
Every morning Brently gets up and makes a cup of tea and sends an email to let people know he's still alive.
Folko spent ten days filming with Brently and says they've since become friends.
"Every morning Brently gets up and makes a cup of tea and sends an email to let people know he's still alive," says Folko. "He wants to let them know that his brain is still here!
"His life story is actually very interesting … fascinating. So it's been a project I've enjoyed on top of my day job. But in a way, it doesn't matter how long it's taken because time doesn't seem to matter to Brently … he's in his own time zone!"
Brently, who is passionate about music, composed most of the music for the documentary and also plays piano in it. Folko's son Miles, who is doing a Bachelor of Music in jazz performance at the University, also plays piano in the documentary.
The film is beautifully shot, mostly by former Media Productions videographer Jethro Martin, capturing the minutiae of Brently's life. Filming was done at Brently's home on Waiheke and Folko says he thinks the somewhat reclusive character decided to let him do the film there because they had got to know each other.
"I still go visit him once in a while when I'm on Waiheke. He's happy on his own, in his own home. But deep down I guess he didn't mind the attention. It's a bit sad he won't get to walk down the red carpet for the premiere of the film. I think he would have quite liked that."
Denise Montgomery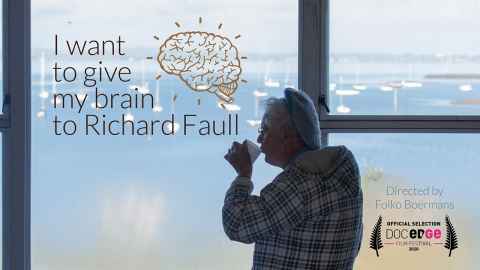 Want to donate your brain?
Professor Sir Richard Faull says anyone wanting to donate their brain to the Neurological Foundation Human Brain Bank in the Centre for Brain Research (CBR) can email brainbank@auckland.ac.nz.
CBR will reply with the details and procedures that need to be followed. He says the CBR receives around 25 brains a year and has recently had a lot of interest in donations to its Neurological Foundation Sports Brain Bank.
"We're also undertaking studies on the mechanisms and genetics that cause brain cell death in Alzheimer's, Parkinson's, Huntington's and motor neuron disease, as well as epilepsy and brain cancer, to develop new treatments.
"And we've developed world-leading techniques for growing human brain cells in culture in the laboratory so we can trial and develop new drug treatments for brain diseases."
Folko Boermans interview on TV One, below