International student support venture predicts the future of international education
Lexie Qiao is a final year Education and Social work student, and founder of Luckia Student Help, a mentorship programme designed to empower international students by providing support around mental health and developing soft skills.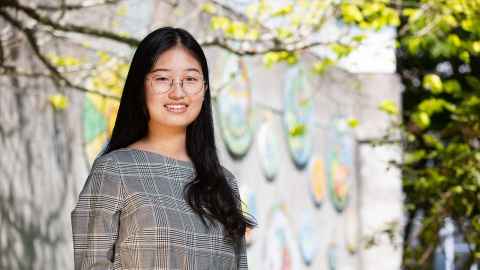 Lexie, who is an international student herself, says "I have personally experienced the need for extra support from people my own age, a kind of support that cannot be provided by professional consultants or parents." She believes that this extra support should come from someone who not only speaks a familiar language, but who has also gone through a similar experience themselves – attributes that foster a unique sense of trust from students.
When Lexie arrived in New Zealand at the age of 15, she could not find any youth support systems that met these needs. So in 2019, she brought her idea to Idea Bootcamp, an introduction to start-ups programme run by the Business School's Centre for Innovation and Entrepreneurship (CIE). "This was a helpful platform for me to share my existing project with like-minded people, and more importantly, examine its feasibility as a start-up." Luckia Student Help went on to win the social impact category, which gave Lexie the validation she needed to continue working on it. She then participated in the Unleash Space Start-up Showcase, and hosted networking seminars in Unleash Space as part of Luckia Student Help's services. She adds, "I am also grateful for CIE's Mentor in Residence programme, which provided valuable connections with industry leaders to consult on my project."
Lexie continues to test the feasibility of personalised soft skill mentoring with high school aged student leaders, and says that it is looking promising. "We have received positive feedback from students from a wide range of schools in Auckland and through that, we see the huge potential of this programme."
Social distancing in response to COVID-19 has had an impact on Luckia Student Help, as "we really value human connection." However, Lexie recognises that they are in a unique position where they are able to continue to deliver their services online, and are thankful that students, her key stakeholders, are typically quick to adapt in a digital world. She is also impressed by how readily they responded to daily life in COVID-19, particularly by being proactive with their use of PPE. "When their parents are not around, they have demonstrated resilience and initiative. I am super proud of them!"
Thinking about the future of Luckia Student Help in a post-COVID-19 world, Lexie's strategy is to be extra flexible about how things are done. "If you think it is easier to communicate with the client over Facebook rather than email, then just do it!" she says. She believes that this way of working will help her prepare for any other unforeseen situations that may arise.
Despite the reduced number of international students currently studying in New Zealand, Lexie believes that schools should prepare to welcome more international students in the near future. She predicts particular interest from countries that have experienced widespread COVID-19, including the USA and UK, as they will be drawn to New Zealand for its perceived safety. She also wonders if students who are currently in their home countries will choose to continue studying towards an international qualification from home.
Having now run Luckia Student Help as a not-for-profit programme for two and a half years, Lexie feels that she is ready to begin exploring ways of commercialising her programme, leveraging the trust and connections that she has taken the time to develop with clients.
Reflecting on her experience so far, she is grateful for the learning opportunities provided by CIE and the people she has connected with. "When you are doing what you are truly passionate about, you will enjoy every single moment of sweetness and pain. It is such an intriguing experience to see how your ideas can develop from zero to something meaningful to others. The experience of working with intelligent people from diverse backgrounds provided me with great social connections, which is something I absolutely value in the long run."
Lexie's work was recognised in 2019 with a Blues Award for Service and Leadership.