Peter Robinson gets with the online picture
Peter Robinson is one of the country's most renowned artists and often heads off into unexpected directions, which perhaps helped equip the Associate Professor, Elam School of Fine Arts, for teaching art students in lockdown.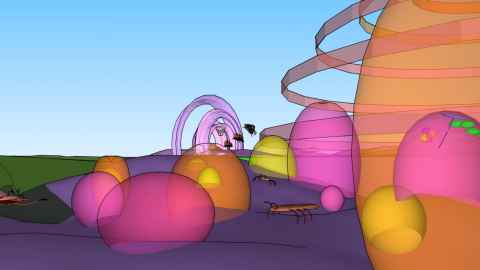 Teaching art online during lockdown, that which would be normally taught in an art studio, presented particular challenges: art shops and hardware stores were closed, art is often a messy business which couldn't be accommodated in many students' home environment, and painting, printing and sculpting is not easily taught online.
Robinson turned to SketchUp, 3D modeling software used for drawing applications in architecture, interior design, landscape architecture, civil and mechanical engineering et al, and used it as a platform for a Studio One project called Making Worlds.
The software allowed him to teach in a way that hadn't been tried in the Elam studio before, and which he thought would be ideal for students in their first year of study. "As a novice user of it I love how intuitive it is as a programme and how it serves as a pathway to learning much more sophisticated, powerful and sometimes intimidating 3D drawing programmes."
"It's a fantastic tool for students to learn to draw complex forms very quickly which they couldn't achieve with pencil and paper, so their thinking is accelerated," he adds.
With SketchUp students could plan their ideas more effectively and communicate them better with technical staff in workshops too, such as metal work. "Learning how to use this in their first year will give them an advantage they'll be able to use for the rest of their years at Elam."
The project brief for Making Worlds was loose and inclusive, inviting students to let their imaginations create their own immersive world with, for example, a machine for living, an ancestral heritage playground, a sculpture garden or theme park which expresses and promotes identity and diversity.
"It was quite astounding to see how quickly the students picked up the software. I've been using it for at least eight years and many of them exceeded my understanding of and ability with the programme. The sophistication of their ideas was also impressive well above Studio One level – I'm looking forward to see if this module impacts upon future studies."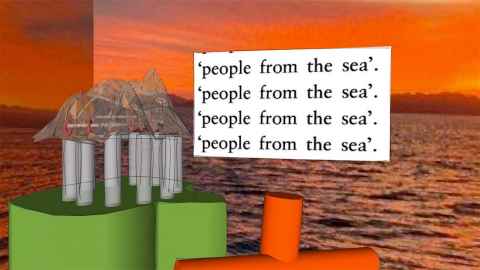 He couldn't have pulled it off, he says, without the support of colleagues. This included Elam senior lecturer, Lisa Crowley, who co-wrote and edited the brief, Ngahuia Harrison, a doctoral candidate at Elam who provides support in terms of mātauranga Māori and Te Tiriti in Studio One, and Elam technicians, Robyn Walton and Franca Bertani from the metal and casting workshops who learnt SketchUp during lockdown so they could provide tutorials and extra support for the students.
Unsurprisingly teaching online involved a lot of Zoom-ing, which opened up opportunities for visitors from out of town. That included Yona Lee, an Elam graduate who is establishing an impressive national and international reputational as a leading contemporary artist, who uses SketchUp as a tool to develop her ideas and to present proposals to curators and directors. "So she was perfect the Making Worlds/SketchUp project," says Robinson.
Grant Major also Zoomed in, whose achievements include winning an Oscar for Lord of the Rings: Return of the King. "Grant was an aspirational and generous speaker who gave the students the sense that what they were doing was real, valid and worthwhile," says Robinson.
"I'm excited by the potential this brief has to accelerate the students' creativity in years beyond Studio One but also it's satisfying to know that the students have a transferable, practical skill which they can use in a myriad professional settings.
"I will definitely continue to experiment with non-studio remote learning settings. The break from the studio environment is great for unlearning conventional notions of art making and opening up new ways of thinking and production."