Toothpaste created by chemistry student a winner
There are key aspects of formulating a new toothpaste that are challenging for the novice chemist - the correct amount of foaming and that all-important fresh after-taste are two that are difficult to get just right.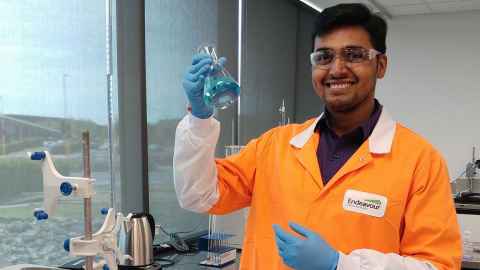 But after eight months of trial and error, using colleagues as human guinea pigs, University of Auckland School of Chemistry PhD candidate Krunal Patel's whitening toothpaste with natural ingredients is on the market and selling well under the Red Seal brand.
"Many times I felt like I couldn't get it right," he says, "people would taste it and say it was a bit yuk or it didn't have that fresh after-taste or it didn't foam enough. But I had put my hand up for the project so I just kept on trying."
Krunal, who has been working at Red Seal while completing his PhD part-time, studied pharmacology and medicinal chemistry for his undergraduate and Masters degrees and is now in the final year of a doctorate in computational chemistry - molecular modelling of proteins and enzymes as potential drug targets including for tuberculosis and cancer.

"My doctoral study has been incredibly useful in this project because, as anyone who's done a PhD will tell you, it teaches you how to do in-depth research, you learn to be really focused, to develop a research strategy and you also develop lots and lots of patience," he says.
"Along with my multi-disciplinary background in different aspects of chemistry and pharmacy, that has been critical to success."
Toothpastes containing natural ingredients have become popular in recent times as more people turn to herbal-based products for a wide range of everyday uses, from shampoo to deodorant. But the market for products with more natural ingredients is very competitive - toothpaste not only has to taste good, it must have a foaming element and, in order to claim it actually whitens the teeth, has to be tested in a certified independent laboratory.
"The lab we used was in the UK and they tested it using blocks of human tooth enamel and they found it definitely did have a whitening effect which was a big relief."
Most toothpastes that claim to be more natural use a combination of standard ingredients that are widely accepted as cleaning agents such as baking soda and charcoal. Krunal says his formulation is unique because it combines those two ingredients with coconut oil and cloves extract. The foaming agent he used, lauryl glucoside, is derived from coconut oil so he experimented with adding coconut oil more generally for taste.
"That was a critical breakthrough because the coconut oil gives it a smooth creamy finish and makes it taste good."
He did initially try different flavours for his formulation, including banana and peach, but his informal taste panel at Red Seal gave both the thumbs down.
"I sometimes thought of myself as a chef, trying out different flavours to see what worked but mint as the main flavour worked best."