Education student wins top Pacific scholarship
Annastasia Matai's lifelong goal of helping Pasifika students succeed has been rewarded with a Ministry of Education scholarship.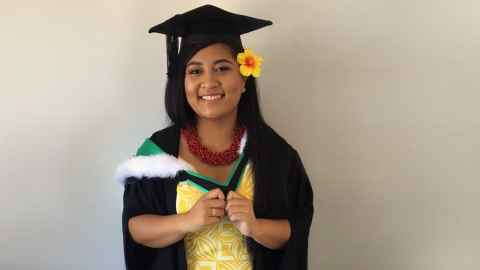 The Postgraduate Pacific Education Foundation Scholarship, worth $10,000, will help to fund Annastasia Matai's Master of Education research on factors that contribute to a successful transition from high school to university for Pasifika students.
As the daughter of Samoan migrants, Annastasia Matai felt the impact of a lack of Pasifika teachers in her classrooms growing up. Determined to make a difference for Pasifika kids of the future, she chose a career in teaching.
"Education was my ticket to prove that Pasifika students are just as capable as any other students," Annastasia says. "I decided to become a teacher to help Pasifika students who need cultural representation amongst their educators."
After completing a Bachelor of Education (Teaching) at the University of Auckland, Annastasia enrolled in a Master of Education to examine factors that help Pasifika students transition from school to university.
I love knowing that I have the potential to make a change in students' lives, through my work and research.
"There's a great deal of research about barriers to university, but there seems to be a gap in the literature around successful factors," Annastasia says. "My research will help schools, tertiary institutions, students and families to become aware of pathways to enable a successful transition, and bring light to the aspects of transition which are currently working."
"Through my Master of Education, it's been great to work alongside other emerging Pasifika researchers, as well as Pasifika lecturers at the Faculty of Education and Social Work. There's nothing better than being challenged by our own Pasifika experts."
For Annastasia, teaching is the perfect career because it allows her to combine her passions for both education and the Pacific community.
"When I think of teaching, I think of a garden – the garden is a school, the plants are students, and the gardener is the teacher. It's the teacher's job to help students grow and blossom – I love knowing that I have the potential to make a change in students' lives, through my work and research."