Kaumātua central to major Māori health project
A commitment to identifying the best wellbeing support for older Māori into the future is the focus of a new University of Auckland project.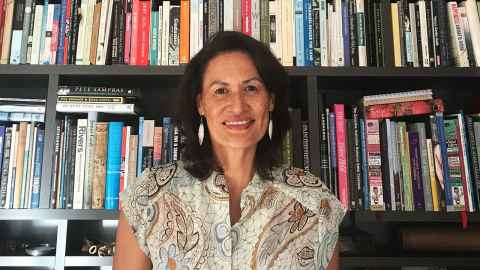 Associate Professor Marama Muru-Lanning (Waikato, Maniapoto, Ngāti Whātua) and her team at the James Henare Māori Research Centre in the University's Faculty of Arts have been awarded $1,181,194 for 'Ko Ngā Kaumātua ō Tātou Taonga: Supporting kaumātua health in a changing world' from the Health Research Council of New Zealand (HRC).
The collaborative project, which aims to have a direct and positive impact on public health policy, will involve in-depth conversations with 80 kaumātua and kuia aged between 65 and 85 (equal numbers of men and women) from three sites in Tai Tokerau and two in the Waikato.
The focus will be on what's important to them now and what changes can be made to ensure they flourish.
"So many health projects start from the idea of deficit or lack, but we're starting from the opposite position," says Dr Muru-Lanning.
"We want to know what's working, what brings them joy, what they'd like to see more of and their hopes for the next generation, as well as what's ailing them, what they're concerned about and what they'd like to see changed."
She says the Waikato and Tai Tokerau kaumātua who will be collaborating on this project played a crucial role in securing the funding, having already been involved in an earlier feasibility study: The Ageing Well National Science Challenge, as well as writing letters of support.
"While at James Henare, we're certainly very excited about this grant, no one is more excited than the kaumātua and kuia themselves, they're really delighted," she says.
You have to give the kaumātua a really good experience and make something happen at the end of the three years, because you're dealing with people who have limited time and want action now.
Coming from a background in anthropology, Dr Muru-Lanning says that with this type of sensitive, ethnographic research, it's important to put everyone at their ease, create an atmosphere of trust and make the methods fit with Māori.
"We go away to a nice venue at least a night, sometimes two, and everyone gets the chance to talk, as they would on a marae, but in more comfortable surroundings; it's a bit like going on holiday. And if everyone is happy, warm and well-fed, you can get some wonderful stories, knowledge and sharing happening."
Relationships and reciprocity are vital, she says.
"You can't do this sort of research by sitting around in an office, it's about transforming public health policy, and it's a different way of doing research. These types of community projects rely on public connections to get buy in; they are very valuable relationships (and in some cases, personal ones to mine and other James Henare researchers' whanau) and we need to protect them, treat them well and make sure they see some real benefits from it."
Dr Muru-Lanning believes her team has "a huge responsibility" to make sure the knowledge they are privileged to get is presented in a way that retains its mana.
"Some things are too private to be said; you have to be careful about doing the right thing and it can be a bit of a minefield. And you have to give the kaumātua a really good experience and make something happen at the end of the three years because you're dealing with people who have limited time and want action now."
To make sure the study's findings have real impact with the Ministry of Health and Māori health providers, her team will be working with the Public Policy Institute at the University of Auckland to get their findings into policy documents, as well as creating other forms of communication like short videos and presentations to government.
Familiar with the field of age research, Dr Muru-Lanning is also co-leader of the LiLACS NZ Study ('Life and Living in Advanced Age: a Cohort Study in New Zealand – Te Puāwaitanga O Ngā Tapuwae Kia Ora Tonu'), alongside Professor Ngaire Kerse from the Faculty of Medical and Health Sciences, who holds the Joyce Cook Chair in Ageing Well and is a co-investigator in this study.
Other crucial members of the research team include Professor Margaret Mutu at Māori Studies in the Faculty of Arts, retired University of Auckland Professor Ngapare Hopa and community researchers and hauora personnel from Tai Tokerau and Waikato.
The study is also a collaboration with the Waikato-Tainui College of Research and Development.