The website that's making people sick
Opinion: How does a website about knitting and crocheting lead to migraines and seizures? Robert Bartholomew examines a strange illness spreading over the internet.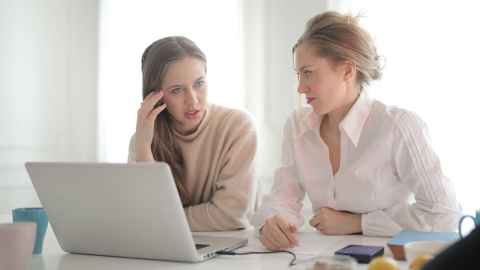 It began innocently enough. In mid-June, the operators of a popular website for knitters and crocheters called Ravelry.com decided to change the design of their website. What happened next is remarkable: Before long, visitors began reporting a variety of ailments from migraines to seizures.
As word of the health problems spread through the community, some were convinced that even following a link to the website was dangerous, and viewing a screenshot could make them unwell. Some visitors claim to have fallen ill immediately upon looking at the site; others claim that the effect is delayed by hours or days.
This is a classic case of mass psychogenic illness. Soon after the new design went live, a user wrote: "Warning: Ravelry may potentially trigger seizures for people with photosensitive epilepsy as well as migraines. Viewer discretion is advised." Then the floodgates opened. Users began reporting an array of health problems that were attributed simply to viewing the site – from headaches, dizziness, nausea, and visual disturbances, to seizures, spasms and vomiting.
One woman wrote: "Within minutes of seeing the new design I had searing pain in my eyes and head, and trouble focusing my vision. It lasted hours." Another woman wrote that after logging off, within 10 minutes "the room started rolling and it was like I was on a boat with all the queasiness and motion sickness." She had a history of migraines.  
By day six of the scare, at least seven people had reported seizures from viewing the site. Once word spread that it was making people unwell, users began redefining an array of aches and pains, to having viewed the webpage.  
As one person observed: "I wouldn't have associated the weird facial and neck pain I get from looking at (the site)…without other people speaking up." Another user claimed that viewing the site was responsible for their muscle spasms and even vomiting. The worried viewers began spreading their message to different social media platforms. One influencer warned that Ravelry's newly redesigned site was triggering "Seizures, dizziness, nausea, and migraine in a pretty significant amount of people. Be aware…" Another called it "a harmful and potentially dangerous website."
Fear of the health consequences from using the site grew to such proportions that the company's 'contact us' e-mail address was circulated on places like Instagram so that users would not have to risk clicking into the website to contact the company.
This isn't the first time that social media has been blamed for causing mass hysteria. In the fall of 2011, about 20 students at LeRoy High School in Western New York were stricken with a mysterious ailment that included twitching and garbled speech. Physicians who investigated the outbreak eventually concluded that the students were suffering from mass hysteria. A neurologist who treated some of the patients, David Lichter, noted that social media was instrumental in spreading the condition.  
It's remarkable to see how one individual posts something, and then the next person who posts something not only are the movements bizarre and not consistent with known movement disorders, but it's the same kind of movements. This mimicry goes on with Facebook.
We live in the Internet Age where information travels around the globe in the blink of an eye. In the past, mass hysteria almost always spread visually after seeing other people stricken, and by word of mouth. Today telecommunications, and especially the internet, has made us more interconnected than ever. It has also rendered us more vulnerable.
Knit-steria illness is an idea and the internet is the vector. What this outbreak illustrates is the power of the web and the human imagination in an age that is filled with suspicion, ignorance, and fear.  
Robert Bartholomew is an American medical sociologist and Honorary Academic within the Department of Psychological Medicine, School of Medicine, Faculty of Medical and Health Sciences.

This article reflects the opinion of the author and not necessarily the views of the University of Auckland.
Used with permission from Psychology Today, The Website That's Making People Sick, 30 June 2020.
Media queries
Gilbert Wong | Research Communications Manager
DDI: +64 9 923 3257
Email: gilbert.wong@auckland.ac.nz