Stranded international students provide global solutions for Auckland businesses
One hundred University of Auckland International Students, based in China and Auckland, are using their semester break to work for local businesses via a virtual micro-internship project.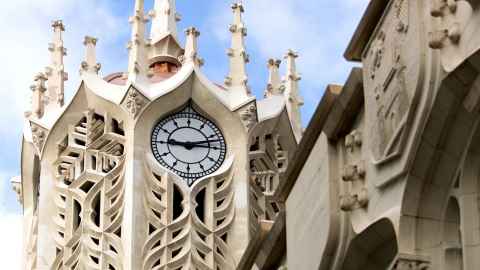 Working in partnership with Auckland Tourism, Events and Economic Development (ATEED) the students are providing research, analysis and insights for companies dealing with the challenges brought about by the Covid pandemic.
Forty of the participating students remain stranded in China but are able to make a contribution to Auckland's economic recovery through virtual participation in the projects. The other 60 international students are based in Auckland and include undergraduate, masters and PhD candidates from around the globe and across varied disciplines.
It's clear that the New Zealand economy and particularly the tourism sector will not return to usual practice for some time and Auckland Sea Kayaks Director, Nic Mead, said he was looking forward to hearing the ideas and perspectives of the students.
"As a business in the tourism industry, we have certainly felt the impacts of Covid-19. The pandemic has given us an opportunity to consider new ways to do business with a focus on the domestic market in the short-term."
Students bring a global perspective that could provide a real advantage to organisations.
Brett Berquist, Director International at the University said that students bring a global perspective to projects that could provide a real advantage to organisations.
"These projects offer something beyond the traditional internship, bringing together international students from a wide variety of disciplinary areas and cultural backgrounds to address specific projects born of the challenges Auckland businesses now face," he said.
The companies involved in this project include big multi-nationals like EY and Deloitte who are familiar with project based internships, but also smaller Auckland based companies grappling with the challenges of Covid-19 who have less prior experience working with international students.
Seren Wilson is Director of Talent Solutions Traditionally, specialist early talent consultants who are delivering the programme on behalf of the University and ATEED.
"Internships often have served as talent spotting opportunities for employers," she said.
"Increasingly, companies are looking for new recruits with more than a qualification with high marks. The best candidates will have a blend of skills, knowledge and leadership, as well as the sort of experience the internships provide.
The students will work for nine employers - Grant Thornton, Deloitte, Devonport Chocolates, WSP, KPMG, Auckland Transport, Auckland Sea Kayaks, ATEED, Anxiety NZ Trust, and Talent Solutions and are expected to work at least 60 hours on the projects over their semester break.
Media enquiries
Lisa Finucane | Media and Communications Manager
DDI:   09 9237698
Mob:   021 677216
Email: l.finucane@auckland.ac.nz