Darl Kolb: Why metaphors matter to the Professor of Connectivity
Professor Darl Kolb's interesting background is reflected in his approach to teaching and research at the Business School.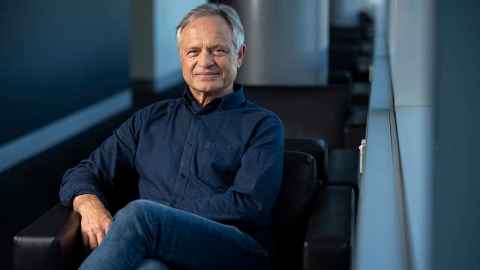 As far as metaphors go, coming up for air, treading water and riding the wave all resonate pretty well with Professor Darl Kolb from the Business School.
The world's first Professor of Connectivity was once almost disconnected from this mortal coil while working as a rafting guide on the Rio Grande.
"It's a very technical part of the river, called the 'Taos Box,' and it was springtime and the river was flooding," says Darl. "When I got down to the main waterfall I realised there was a big wave at the bottom. I'd learned to row on the Colorado and other big rivers and knew you can spin a raft around and row backwards to get more power.
"I suggested that to the apprentice guide, but we got halfway around and hit this big hole and the raft flipped."

Despite being athletic, Darl isn't a strong swimmer. "It was terrifying. I was trapped under the upturned raft with no air space. I was flailing and then I had the whole out-of-body experience. I looked at myself dying, the whole thing.
"Somehow I popped out and then saw my colleagues in another boat. They got a rope to me and pulled me to safety.
"The whole experience was pretty profound."
Besides rafting, Darl worked as an instructor for the Colorado Outward Bound School and Santa Fe Mountain Centre for a decade, in wilderness areas in Colorado, Utah, New Mexico, Texas and Alaska and later guiding on Denali (Mt McKinley), the highest peak in North America (6,190m).
He says Outward Bound's challenges are a giant metaphor for living and probably what got him interested in our use of metaphor. Students face physical and mental challenges that reflect similar challenges in life, and the insights and confidence gained from the experience often stay with learners for life.
Darl grew up on a small farm in the Allegheny Mountains, part of the Appalachian chain of mountains in the Eastern US. His family name is German and his hometown (Accident, Maryland) has deep German roots. His grandparents' first language was German, despite living on the family farm since the mid-1800s.

Darl's first degree was in sociology, after which he'd taken a year off to travel around the world. Returning to the States, "I met someone who was going to do a master's degree in experiential education at the University of Colorado. I thought that sounded like me so I rented a room in Denver from someone I'd met on my travels and I got into the same programme.
"I was a farm kid doing this internship, camping 10,000 feet up in the Rockies, carrying a pack. I was 23 and had never camped in my life, but when I got asked to do this wilderness stuff for work, it just suited me."
He also worked with youth at risk. "We wrote forensic psychology reports on how well participants would integrate back into society. My sociology degree was a good background for all that."
After his near-death experience, Darl decided to pursue his long-time goal of getting a PhD. While he was clear about his vision, leaving Santa Fe to move to Ithaca, New York was one of the hardest things he's ever done. Darl had met his French American wife in Colorado and they were married in New Mexico.
"My spiritual home is out west, northern New Mexico, in particular Santa Fe and Taos. I don't miss much about the States at all but I do miss that area. Northern New Mexico is magical."
Darl completed his doctorate at Cornell University in organisational behaviour and programme evaluation, and moved to New Zealand sight unseen in 1992. He has earned a number of teaching awards on his path to professorship. The title Professor of Connectivity has afforded Darl research funding from the Vodafone Foundation and a serendipitous but long-lasting engagement with the Pentagon's 'future army' think tank, which he says was fascinating for a pacifist with no military background. He has written papers on reconceptualising distance and the concerns and conundrums of living in a connected world.
One of his first major papers considered the 'metaphor of connectivity.' But Darl says connectivity has become much more than a mere metaphor. It is the infrastructure of globalisation as well as our daily digital lives.
"These days the issue of connectivity has grown dramatically and there are more people than ever researching everything from user experience to surveillance to working at home. I used to say, 'connectivity isn't everything, but it's almost everything' but increasingly the ability to disconnect is valuable, if not necessary, to lead healthy lives."
Darl is co-editing a special issue of the journal Organizational Studies on connectivity in and around organisations, which is due out later this year. He is also on research and study leave in 2020 and was overseas when Covid-19 changed the world. "I had a few days in San Francisco, Silicon Valley. Looking back, anything we were doing before lockdown now seems so surreal. I was at Facebook in late February with a former student/now friend who works there.
"One of the nice things about being at this stage of my career is we have these great students who eventually become friends.
"But that visit to Facebook was sort of like the Roman Empire before everything went to custard. It was a Disney-like atmosphere with all these wonderful, bright people from all over the world just strolling around having their free lunches."
"Of course, within a month they were working at home and the whole place was empty. I came home on the first of March and got the message from our University that we weren't going anywhere else. I was meant to be at Cambridge in the second half of the year but that's fine. I'm glad to be here and safe."
 
I used to say, 'connectivity isn't everything, but it's almost everything'. But increasingly the ability to disconnect is valuable, if not necessary, to lead healthy lives.
Working at home near Bethells Beach, Darl has several irons in the fire including new research on metaphors. He's running a survey at metaphorsinuse.com to explore how people use metaphors to understand life experiences, in particular digital life and working from home.
He's also working on a new book.

"It's probably the last full year of sabbatical in my career and I'm using it to pull together strands of what I've done in my whole career, not just the academic part. I enjoy writing and I'm pleased to be able to do that in book form. I want this new book to be helpful for students, twenty-somethings, thirty-somethings, and older alumni who may be interested in the case studies I am pulling together from a range of people I've taught and met over the years."
Darl also still works closely with The Icehouse (theicehouse.co.nz), which was co-founded in 2001 by David Irving, with Deb Shepherd and Christine Woods of the University of Auckland Business School and corporate partners to assist small and medium-sized enterprises (SMEs) in New Zealand. Darl joined the facilitator team in 2007 and remains involved in its owner-manager programme (OMP), a five-month learning programme that meets three days a month in residence for 20-25 participating business owners.
"The programme is based on a couple of simple principles and one is the safety of conversation with people who understand and are in a similar situation. We discuss things like the headaches and nuances of being a business owner, or when it's a family-run business, there are issues with succession or trying to grow the capacity of the business to meet family needs, which change over time."
He says many business owners don't have business training so the programme teaches business principles, and covers the basics of managing people and organisations, strategy, marketing and finance. He says many people use accountants but don't really know how to interpret their numbers.
"It's trusted advice because we put them in groups with business advisers and there's a panel. It's not a Dragon's Den, but you share your information with several other businesses right down to the profit and loss and balance sheet, which you'd never do in an MBA class."
"So they're really trusting each other and then they get me or another facilitator, plus an experienced business mentor, asking questions and trying to help them deal with the major issues in their business. It's a real privilege to be part of these conversations and I've learned so much about all kinds of businesses. It's terrific."
In June he led the first post-lockdown workshop of owner-managers in Queenstown. He says Covid-19 had challenged people's mindsets.
"The conversations recognised the issues facing the business environment, but in general people taking part were surprisingly optimistic. A lot of them are entrepreneurs and entrepreneurs are always optimistic, but others have quite big businesses and/or operate in the ag sector or infrastructure – and they were doing fine actually."
He says of the 23 businesses at the recent Queenstown event, plenty were doing way better than expected, considering Covid-19's impact on the economy. For example, boat-builders had a 'rush on', with people realising they probably won't be able to travel for a year.
"They were laughing saying, 'yeah, we think boats are an essential service'."
In response to the Covid-19 crisis, The Icehouse has designed a new product that's offered online. It's called Taking Your Business Forward and the initial intake in July included 40 percent women, most likely a sign that the online format worked better for women business owners.
He says adaptation to what businesses need is one of the reasons for the programme's longevity. With programmes like this you might expect to have five good years but this has gone a long time because businesses really appreciate it.
"During the GFC, I remember sitting in a hotel room and listening to these businesses and wondering how they were going to go. The programme kept going and in fact, I think that's when businesses feel like they need us most. There's a lot of knowledge at the Business School."
Academic expertise and insights that come from working closely with New Zealand businesses have helped in the second book he has co-authored with Deb Shepherd, Chris Woods and David Irving called Gearing Up: Leading Your Kiwi Business into the Future. It's a follow up to Changing Gears: How to Take Your Kiwi Business from the Kitchen Table to the Board Room and features case studies of SMEs in New Zealand. Although it went to press before the Covid crisis, Darl says it's highly relevant.
"In fact, we nearly made the title of the book Leading Your Kiwi Business into an Uncertain Future. Turns out that would have been 100 percent accurate."
– Denise Montgomery
WIN
We have one copy of Gearing Up: Leading Your Kiwi Business into the Future (Auckland University Press) to give away to University of Auckland staff, alumni or students.
Email: uninews@auckland.ac.nz with your contact details by 25 August.