From foundation to PhD, with Cook Island values all the way
Peta Ravlich enrolled in a foundation certificate in 2010, to follow her dream of becoming an ECE teacher and keeping her language alive. She's now a PhD student, examining Cook Island students' success in higher education.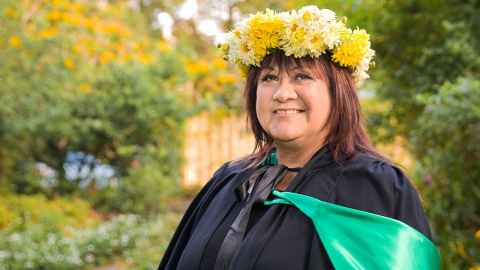 Born and raised in Rarotonga, Peta Ravlich has always been passionate about languages, growing up surrounded by Tahitian, French, English and, a language very close to her heart, Cook Islands Māori (Rarotongan).
"There are three distinct languages in the Cook Islands – Pukapukan, Tongareva (Penrhyn), Rakahanga-Manihiki and Rarotongan," Peta says. "My language reinforces my identity and connects me to my island nation, people and ancestors."
Peta moved to New Zealand aged 20 but always kept her language and culture close. Inspired by her love of children and her desire to keep the Rarotongan language alive through education, she decided to follow her dream of becoming an early childhood teacher in 2010.
While studying, Peta immersed herself in the Pasifika culture within the Pasifika ECE Specialised Programme at the faculty. "This is where I learnt to value my language, culture, identity and beliefs even more," Peta says. "The most special moments for me were watching Pasifika students walk across the stage at graduation – as a mentor, I got the biggest buzz from watching them graduate, reflecting on what they had been through and how far they had come."
It is so important for people of different ethnic groups to value and treasure their language, heritage and culture, for these give us identity and make us all unique.
After completing her Bachelor of Education (Teaching) (Honours) and Master of Education with First Class Honours, Peta enrolled in a PhD to examine notions of spirituality and how it affects Cook Island students' achievement in higher education.
"I'm looking at Cook Island university students in three locations: the University of Auckland, University of the South Pacific (USP main campus in Fiji) and a branch of USP in Rarotonga. Spirituality, both contemporary and religious, is the essence of a Cook Islander. From spirituality emerges different components of self."
When she finishes her PhD, Peta wants to take what she's learnt back home to make an impact in the Cook Islands.
"I want to establish a total immersion early childhood centre in Rarotonga for enhancement, maintenance and teaching of our mother tongue. Our language is one of the realm languages that is in danger of extinction.
This week, Peta will be celebrating Cook Islands Language Week at home, cooking various traditional dishes. She encourages everyone to get involved and celebrate throughout the week.
"My advice for those who want to celebrate Cook Islands Language Week is to get to know the language and culture of Cook Islanders. My advice to Cook Islanders is hold on to the language, heritage, culture, indigenous knowledge imparted to us from our ancestors and families. Do not let our language, culture, and heritage be tokenistic; let be it real - live, value, practice who we are and be proud of being Cook Islanders.