Lockdown uncertainty could undo 'go hard go early'
Opinion: 'Go hard, go early' brought global praise to NZ. But on-again off-again lockdowns cause uncertainty which can crush business, writes Robert MacCulloch.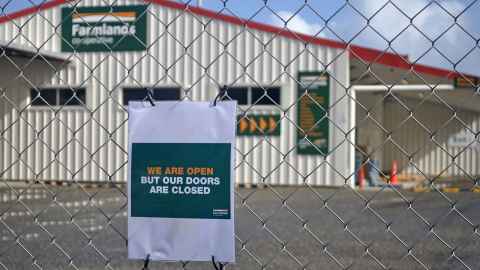 New Zealand's approach to keeping Coronavirus away from our shores, or at least stuck in our quarantine facilities, has been lauded by commentators around the globe.
The World Health Organization recently presented the country as a model to others. In four words, our approach has been characterized as 'Go hard, go early'.
After the lockdown period, which was one of the most severe in the world, our Prime Minister announced that New Zealand had eliminated transmission of the virus domestically and would lift most containment measures apart from border controls, making it one of the first countries to do so.
As a result, the country went from having one of the world's strictest levels of controls to one of the most relaxed. Businesses were encouraged to get back to business. Restaurants were encouraged to stock up again. People were encouraged to go out and spend to get the economy moving again. We were asked to return to our normal lives.
However, following the re-emergence of locally transmitted cases, the country has been plunged back into another strict virus-containment regime. Little notice to prepare was given. This dramatic see-sawing in policy can clearly be seen in the Government Response Stringency Index, published by the Blavatnik School of Government at Oxford University.Compared with many other countries,
New Zealand's degree of stringency is now looking particularly unpredictable. For example, Germany and Sweden have maintained far more steady policies over these past five months. They never tightened so much when the virus first hit, nor did they subsequently loosen so much. Yet as of today, they now find themselves under significantly less strict regimes than us.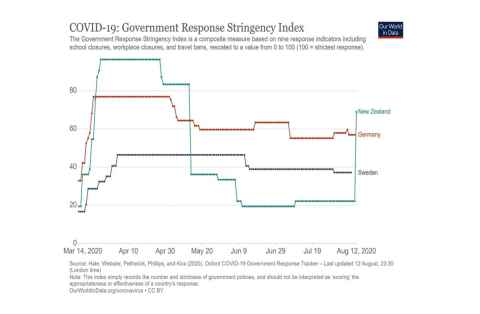 Sadly, as a consequence, the biggest threat to the 'go hard, go early' approach to stopping virus outbreaks in their tracks may have just made an appearance. Policy uncertainty. A prominent University of Chicago economist, Steve Davis, has long been highlighting the huge role that policy uncertainty plays in determining performance. He argues that "about half of the forecasted output contraction [in the US] reflects a negative effect of Covid-induced uncertainty".
Policy uncertainty can crush businesses because planning becomes difficult. As a consequence, it can crush investment, crush jobs and even hurt the health system to the extent that its funding becomes threatened by a weak economy.
"Go hard, go early" has undoubtedly been a successful medical strategy in terms of fantastically achieving the aim of kicking out the virus after an outbreak occurred. However, unpredictable, on-again off-again stringent lockdowns may produce so much uncertainty that other outcomes start to deteriorate.
Health and wellbeing can even start going in opposite directions on this roller coaster ride. Anxiety and fear, negative emotions stoked by apprehension over what is to come, may rise even though physical health outcomes are being safe-guarded.
By not making the decision-making process very transparent, policy makers in New Zealand have begun to sow great seeds of doubt. For example, how many cases of local virus transmission must there be to justify triggering a lockdown and for how long? How low does the number of cases need to fall before a lockdown is lifted? What other criteria matter?
Dramatic live televised announcements are being made to a nervous nation which must learn its 'lockdown fate' at a designated time, without much clue as to what awaits. Discretionary decisions by Ministry of Health officials and politicians are beginning to trump a rules-based order.
It seems that to achieve good health and wellbeing outcomes, as well as good economic outcomes, like keeping people in jobs, more transparency is needed. Otherwise, the country risks swinging unpredictably from super stringent "go hard" to super relaxed "go easy" regimes, and back and forth again and again. Confidence is sapped and planning by our enterprises becomes paralysed.
This virus is wreaking destruction. But policy uncertainty also wreaks destruction.
Professor Robert MacCulloch is the Matthew S. Abel Chair in Macroeconomics at the Business School.
This article reflects the opinion of the author and not necessarily the views of the University of Auckland.
Used with permission from Newsroom Lockdown uncertainty could undo 'go hard go early' 14 August 2020.
Media queries
Alison Sims | Research Communications Editor
DDI 09 923 4953
Mob 021 249 0089
Email alison.sims@auckland.ac.nz