Mathematician finds 'real-world' opportunities in a change of direction
The decision to pursue postgraduate study is often not easy to make, evident in Atefeh "Honi" Rahimi's journey so far. Her unconventional route also includes her husband, Ali, as a key factor.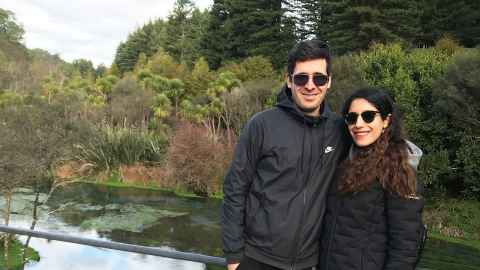 It started three years ago, when Ali was looking for a new challenge and a change in environment. After receiving offers to PhD programmes from universities throughout Canada, Germany and Australia, he settled with the University of Auckland for its ranking, Tāmaki Makaurau's multicultural demographic, the weather — "somewhere that isn't too hot, but also does not have Iran's -10°C winters" — and upon recommendations from friends here.
"I actually didn't want to go abroad at first" Atefeh admits. "I was happy in Iran, so this put a strain on our relationship but I decided to follow anyway."
At the time, she was working as a teacher and wanted to continue doing that. She applied for a work visa and tried looking for teaching opportunities in New Zealand, but found it difficult to qualify. The couple found some certificates for international students intending to work in the field, but costs were high, so she worked on a project at the University's Department of Mathematics.
"My masters and bachelors were in pure mathematics, so that was where I went to and at the time, thought about if I was prepared to continue my education", Atefeh says. Two months later, she realised the project wasn't interesting to her, so she considered a future with the Department of Engineering Science, where Ali already is.
A conversation with a friend who was already supervised by Dr Mike O'Sullivan led to Atefeh approaching the lecturer. She was particularly grateful to be given a chance to work with him in spite of her background in pure mathematics — programming did not come naturally to her, she spent around ten hours a day in the first few weeks to get used to working with the code.
"Mike's feedback was really good, because he understood my background in mathematics and made the effort to work with it. He was really supportive and encouraging, which motivated me to keep it up. It was a great experience", she says.
The project she worked on involved simulating the behaviour of patients going through hospital treatment from entry to exit. Part of it includes synthesising data from the Dargaville Medical Centre and creating models using software languages. As a pure mathematician, she found the experience of working with real-world data and problems to be interesting. Along with Dr O'Sullivan, she soon considered applying to do a PhD at the department.
"He was a pleasure to work with and we enjoyed working together, so we made a plan, and I'm excited about it."
She has since accepted her conditional offer and will very soon be one of the Department of Engineering Science and Dr O'Sullivan's newest PhD candidates, a decision that Ali is no doubt pleased with. "She's really hardworking and once she gets to it, she doesn't get distracted by anything around her. I love seeing that and her future here", he says.
The couple admits that the move — like any move abroad — was initially challenging, but they have no regrets and credit Aotearoa's people as being vital to their enjoyment of the country. "Compared to other places, we saw the behaviour of the people and we learned that New Zealanders are extremely kind", Atefeh adds.
The theme of kindness was particularly relevant throughout COVID-19. They were both impressed with the supportive nature of the people and the strict, scientifically-backed decisions made to prevent transmission of the virus.
For Atefeh, there is another opportunity to be excited about: her work with Dr O'Sullivan led to her recently being added to the wider team involved with COVID-19, mostly in simulating models with data from medical centres. Though this is still at its early stages for her, both her and Ali are excited to see what real-world results will come out of it.
Ali, whose background was in applied mathematics, is now working on multi-objective optimisation problems with Dr Andrea Raith, which involves the development of algorithms to solve problems with supply and demand.
"He's gone a little bit mathematical", Atefeh jokes. "We met at university, both doing mathematics, but my bachelors and masters were pure and his were applied. My mind was completely mathematical, but here I am now, doing practical stuff!"
"I am a little bit jealous sometimes... but I do really love my project and like working in optimisation problems and have always wanted to do a PhD", Ali adds. "I just want to keep learning more about this, and someday apply my knowledge to solve problems in industry."
When they're not solving problems with mathematics, Atefeh and Ali have also found a close-knit group of friends in their colleagues at Engineering Science, as well as from the Auckland Bioengineering Institute, who are based in the same building.
"There are actually a lot of Iranians here too!", Atefeh says. "I'm glad I came, and everything changed for me. And the future looks better because I've been learning so much. I'm really happy now — really!"