Designing for the future needs more than compostable water bottles
If designers want to change the world we need to move beyond "green-painted" solutions such as recyclable water bottles, and design in a way that actually changes the way we produce, consume and socialise.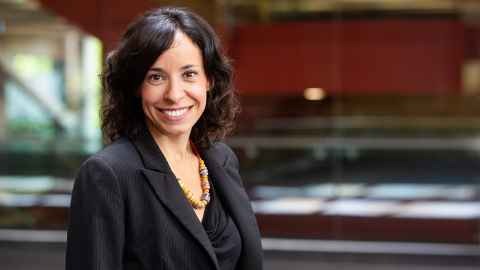 So argues Dr Gabriela Baron, who is leading the Design and the Natural Environment paper on the Design Programme at the University of Auckland. This paper focuses on conservation goals and strategies in the real world, and projects set and students assessed in terms of how well they well they tackle global problems as expressed in the UN's Sustainable Development Goals (SDGs) - such as "life on land" and "life below water".

Her students are currently working together with local stakeholders (including scientists, academics, policy makers and the Hauraki Gulf Watershed group) to help address environmental conservation problems of the Hauraki Gulf, such as biodiversity loss and the challenges of enforcing marine sanctuary legislation.

This semester students have been developing an understanding of the power of storytelling, as a way to shift people's mind sets. They will then work on a Design for Conservation project, following a methodology designed by Dr Baron as part of her research work.

"Design for Conservation will require students to connect with their community and to their own local environment," says Dr Baron. "They will learn from diverse stakeholders, identify problems, propose solutions, and carry out sustainability assessments in all the stages of the process."
 
When the limits of our planet are becoming more evident, designing for product selling is not an option anymore. As designers we need to stop being part of the problem, and more part of the solution
Dr Baron grew up in Argentina, where she graduated from Industrial Design, after which she began making high-end custom-made furniture pieces – "wine cellars for rich people" she says, which in retrospect "was an expression of my craft, my ego".
She had something of an epiphany when she was studying for her masters in product service system design in Milan, when she recognised that design for sustainability went above and beyond "the eco-design babble we were used to".

"When the limits of our planet are becoming more evident, designing for product selling is not an option anymore. As designers we need to stop being part of the problem, and more part of the solution."

Consider the water bottle. It is easy enough to design more eco-friendly bottles, that use significantly less plastic, with thinner walls and more recyclable material. That might mean that less energy is used in making the bottles, in transporting them, in the volume of waste involved.

"But this change is timid, incremental and does not really address the underlying causes of the problem," she says. "We need to think about designing in a way that changes our consumption habits, the ways we define ourselves, the ways in which we feel satisfied. Of course, this is way more difficult than re-designing a water bottle, but designers like big challenges."

It is also important that design priorities the wellbeing of people, she says. Rather than designing new products, it would be better if we designed for a world in which people could get a drink of water wherever they were, for instance.

This could be addressed by making more water dispensers available in in public spaces. It could involve encouraging residents to provide an outside tap on their homes, for passer-byes to use. "It's about re-defining the boundaries between public and private and exploring the shades of grey in between. It's about switching from ownership to access, from products to services."

"That's when the ideas become then radical, when you're innovating on a system level. It requires a shift in thinking, moving from sustainable design to design for sustainability, which is a different concept: instead of making sure that your project complies with sustainability standards, you make a project with the aim of regenerating our environment and our social cohesion. This is what I call 'Design for purpose'."

The environmental crisis cannot be solved through technology. "The level of change needed for us to tackle this problem is social, it's political and it's behavioural. We need to prioritise quality over efficiency, and connectedness to nature over economic growth.

"We can use design strategies to make these deep behavioural changes, so that they can be effectively adopted by people, to improve our wellbeing, and that of the planet."