Law students receive support to compete at global mediation competition
Shortland Chambers has announced a $10,000 sponsorship for the next two years to help Auckland Law School students to successfully compete in the International Chamber of Commerce (ICC) Mediation Competition, held every year in Paris.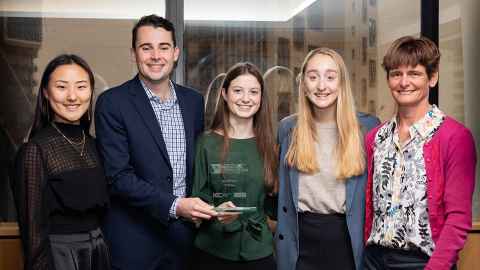 The ICC is the world's largest mediation competition, at which more than 60 universities from around the world compete in mock mediation sessions over a week.
The generous support from Shortland Chambers will pay the travel and accommodation costs of the two mediation coaches who will accompany a team of four students to France for next year's competition.
The announcement was made on Tuesday 11 August by Jane Anderson QC from Shortland Chambers, at a prizegiving ceremony acknowledging the 2020 winning team, comprising University of Auckland students Susie McCluskey, Keeha Oh, Jacob Siermans, and Madeleine Tilley, and their coaches Tunisia Napia and Rima Shenoy. The team returned from victory overseas in February, just prior to Level 4 Lockdown.
It is the second time that a team from Auckland Law School has won the global competition, setting a record as the only university to win first prize twice in a row.

It is the second time that a team from Auckland Law School has won the global competition, setting a record as the only university to win first prize twice in a row.
"There is a legacy building up around this competition where past team members hand on their knowledge and expertise to the new team members," says the Dean of Law Professor Pene Mathew, thanking Shortland Chambers for their generous support, as well as everyone else who had contributed to the team's phenomenal success.
Mathew said the Auckland Law School had been very fortunate to have special guest coaches including Anna Quinn, Miriam Dean QC, Warren Sowerby, and Geoff Sharpe over the past four years. She also pointed to the contribution of faculty member Nina Khouri, who brought the competition to the School's attention in 2013, and encouraged ongoing participation.
"The ICC Mediation Competition is quite different from other mooting contests," says coach Rima Shenoy. "Mediation is about collaboration so there is a different way of thinking when you go into the competition. You focus on interest-based negotiation skills, with understanding different needs, wants, drives of the other party, while also acknowledging the commercial realities of the situation. That is something that the University of Auckland has really prided itself on in the last few years."
Each round of the competition consists of an 85 minute mediation. By the final round the 2020 Auckland Law School team had tackled eight different fact problems.
"We were well prepared for the preliminary round which was a land dispute between an indigenous people and the government," said team member Jacob Siermans. "But by the final round, you have only a few hours and you are preparing as quickly as you can."
Coach Tunisia Napia, who will continue to work with the 2021 ICC Mediation Competition team said that what set the University of Auckland team apart was the wealth of knowledge that came from everyone involved. "It does not matter if we win, but it does matter that we represent everyone that has put work into us, with dignity and respect," she said.
The next ICC Mediation Competition will take place in February 2021.