The 'other election' on students' minds
The general election isn't the only show in town.
On 31 August, voting opened in the Auckland University Students' Association election, and closes on 4 September. It's not a small job to be on the AUSA executive – it represents a population the size of Whanganui. Acting president Emma Rogers answers a few questions about the AUSA.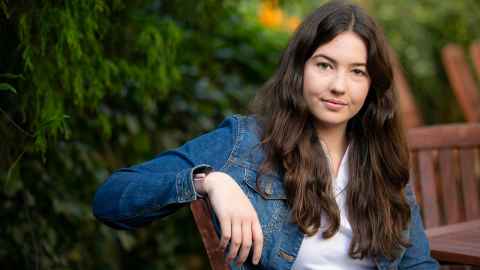 What's the voting turnout usually like for the AUSA elections?
Probably worse than the General Election but at least the students can do it all online so we've been getting all the comms to them to get students involved. 
What kind of person stands for the AUSA?
Someone who loves the AUSA and shares its values. You have to understand the power of the student voice and the opportunity for the AUSA to support students. The best people in the AUSA are really committed. It's a chance to show great student leadership and develop the relationship between the University and AUSA.
How long will you be acting president?
Until the end of November and then the team elected this week (31 August to 4 September) for 2021 will start their roles from 1 December. When the acting president role came up, I was education vice-president and I'd just finished my studies. George Barton, the elected president had decided to return to his so the spot became vacant. It was a great opportunity for me to step up, but I'll be trying to find a job on the outside after this. We've had more than 60 people wanting to stand for executive roles this year so that's great.
Is the AUSA president role full-time?
Yes, it's a paid role and 40 hours a week. It's a role you need to be passionate about and it's also deeply political when it comes to dealing with the University and outside parties.  
My job is to translate what the University is saying into terms students care about so they will engage.
What's on the agenda at the moment?
The impact of Covid-19 on study has been on the agenda all year so continuing the work to support students is key. Aside from that, the Strategic Plan being developed by the University is something for me to get my teeth stuck into. I'm trying to engage with students over that.
How do you get students interested in that?
My job is to translate what the University is saying into terms that they care about so they will engage. So I'm framing it like, 'this is the Strategic Plan and it's going dominate every decision the University makes for the next five or ten years and we get a say in whatever they decide'.
Like you did for the University's Code of Conduct? That boiled down to 'don't be a dickhead'.
Ha, well it was a bit more than that but that was the essence of it. Our plan is to engage with specific student groups and then go for wider consultation. We'll run an information campaign online, as well as on campus when we can, and talk to our Ngā Tauira Māori partners, as well as go into C Space (Cultural Space) for workshops. The position papers aren't student-friendly so it's up to people like me and the AUSA team to make them understandable.
What kind of subjects in the Strategic Plan are important to students?
The education and sustainability position papers are important. We want students to tell us how we should tackle sustainability, what they want in education and how they want to be involved. We have proactive students who'll make their own submissions but we want to make sure there are no barriers to anyone making a submission.  
How has the AUSA helped students lately?
As soon as Covid-19 hit, we created a group called 'We Got You'. It was for students to access extra help when they may not have known such help was available. It has been really effective because we've been able to see what students are struggling with, such as 'I lost my job and now I'm finding it really hard to pay rent'. The AUSA pumped money into our welfare grants and have given more than double the usual number. Many students find it hard to reach out so we went to many directly, and said 'hey look, we've got this help available and we want you to access it, please do'. For the second lockdown, we made sure those services were fully operational online so students could still access them.
What was your greatest achievement as education vice-president?
It's been an awesome year and we've got so much done working as a team as well as within the education realm, despite lockdowns. The biggest thing was getting the University to agree to a 'grade bump' to reflect the conditions students have been under. We worked really constructively with the Deputy Vice-Chancellor, Academic and our Student Council to achieve that.
The Student Council – what's that?
The Student Council was created in 2019. It's made up of all of the presidents from the faculty associations. It brings all these student voices to one room and we talk about the biggest issues the University and its students are facing. Student Council can also deal with things such as 'should we take a stance on the cannabis referendum', 'should we have drug testing at our events'.
Should you take a stance on cannabis law?
We took that to the Student Council and after consulting with the students we decided no, we won't. We'll provide information and the opportunity to get educated on it, but we won't be taking a stance. We're political, not partisan.
It used to be compulsory to be a member of the student union. Would you like that?
Our membership drives are always fun and great to meet and sign up members, but yes it's an issue being an opt-in system rather than opt-out. It would be perfect if everyone belonged so we knew we had the mandate of all students. It's kind of why Student Council was created, to hear from more students in the absence of a mandate. That gives us confidence but an opt-out system would be best.

How was the taste of freedom on campus that happened between the last lockdown and the August one?
It was so nice to see students! We had huge turnouts for events like Bingo and pub quizzes in Shadows. For first-year students, it's especially important to get involved and meet people so it was good to see students getting excited at university life. The student clubs held some awesome events that they couldn't hold online. But there's also been an improvement in online engagement – making sure students can 'socialise online' if we're in lockdown.

If you had five minutes with Vice-Chancellor, Professor Dawn Freshwater, what would you say?
On behalf of students, it would be that we're looking forward to a constructive relationship between AUSA and her office. It would be awesome to see regular catch-ups with her become the norm and barriers removed between the VC and students although obviously she has a lot on her plate with Covid-19 and the University's new Strategic Plan. I'm a strong believer in the 'students as partners' model and would like to help implement that in a really workable way.