Avoiding a cultural brain drain when borders reopen
Opinion: NZ could achieve much more in creative sectors if professional structures were put in place, with decent central and regional funding, writes James Tibbles.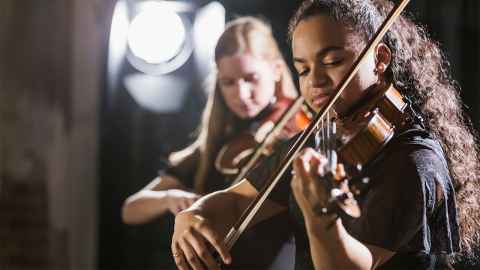 Covid-19 has forced us to rethink, to re-train, and to review our values and priorities. The pandemic has turned the arts sector on its head, and I'm not convinced that we are yet grappling with the problem.
As Head of the School of Music at the University of Auckland, I regularly celebrate our students' successes, when they gain places into postgraduate programmes at prestigious institutions overseas. At the same time, I worry about what will happen to these young musicians in the longer term, and I certainly ask myself why New Zealand is educating musicians to live and work overseas. Some do return, but many do not. I also shudder at the extraordinary costs that these students incur as they invest in their dream of a career as a musician. Now, in a pandemic, I see many of our successful 'exports' returning to New Zealand, as the freelance music industry struggles and musicians' incomes crash to zero.
For decades we have recognised the existence of a global marketplace – not just for goods and services, but also for skills. Our finest musicians are to be found all over the globe. As the world locked down under Covid-19 and borders closed, our horizons have had to shrink to the local, and this has given us the opportunity to rethink who we are and what we are doing. Under lockdown, our cultural experience, our social engagement, our sense of community, and indeed our sense of self becomes diminished. We yearn to be out and about, and, in the creative sector, we yearn to be back performing, attending events, and being part of a community. These are values and priorities that, prior to Covid-19, were assumed, but probably not prioritised.
Now, as never before, we see the need for a thriving cultural life – not just in the main centres, but in all corners of the country, and in all communities. I believe that now is the time where we need to explore growth and development. Of course we need to survive the present; we need to cope with the huge challenges, the loss of jobs, the diminishing economy, but we also need to be able to look ahead, to where New Zealand wants to be, once we as a country and we as individuals are back on our feet. Yes, that might take a while.
As we consider the potential for growth in the creative sector, the fact that a million New Zealanders are living and working overseas should cause alarm bells to ring. Those who are musicians are overseas largely because New Zealand's arts scene isn't able to support them. If Covid-19 has taught us the value of community, and of the local, then it presents us with the challenge of how to grow that cultural community.
It's easy to say that, with a population of just 5 million, our economy, our small audience base, and our widely spread population are all factors that stop us in our tracks. Yes, there are huge issues to be addressed, but now is the time for big ideas, and big plans.
There are two challenges here. Universities need to provide our students with skills that equip them for the future – a future in which work will look very different from what is familiar to us right now. These skills fall far outside those that make a fine musician, but it is these new skills that will equip our students for a flexible multi-faceted portfolio career.
The second challenge is also an opportunity. New Zealand's creative sector is extraordinarily rich and diverse, but it continues to rely too much on goodwill and on amateur support. But how much more could we achieve, how much richer could our country be culturally, if professional structures could be put in place, with decent amounts of central and regional funding, along with professional arts administrators and publicists, to allow the development of a vastly larger professional arts scene? Could we, for example, imagine having a New Zealand version of the Kings Singers? The talent exists! New Zealand supports only one professional full-time string quartet. And yet, every year University Schools of Music produce (and export) talent, much of which isn't able to return and find employment in our arts sector.
This might seem to be the wrong time to be discussing arts funding, when we are facing great adversity, with job losses and business failures. On the other hand, now is the time when we need to look ahead and find growth opportunities and new pathways to employment in the creative industries.
Rather than looking back to the 'good old days' when we did our best, often with a number 8 fencing wire approach, and when we could easily buy talent from overseas, while in the process potentially ignoring world-class talent at our own doorstep, we need to look forward, into a brave new world – grow our own talent, develop a much broader philanthropic culture, demand that New Zealand's cultural identity is nurtured through a larger pool of centralised funding, and in so doing support New Zealanders to work in the creative sector in New Zealand. Let's not see another cultural brain drain once the borders open again.
Associate Professor James Tibbles is Head of the School of Music.
This article reflects the opinion of the author and not necessarily the views of the University ofAuckland.
Used with permission from Newsroom Avoiding a cultural brain drain when borders reopen 7 September 2020.
Media queries
Alison Sims | Research Communications Editor
DDI 09 923 4953
Mob 021 249 0089
Email alison.sims@auckland.ac.nz